2013 Southern Regional Family and Youth Conference a great success.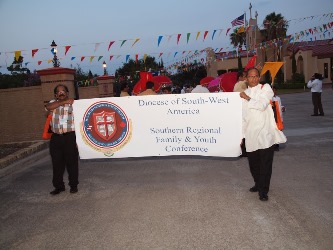 The 2013 South Region Family and Youth Conference held at the St. Thomas Indian Orthodox Cathedral - Houston, Texas was a great success. His Grace Alexios Mar Eusebius , His Grace Dr. Yuhanon Mar Demetrios (Metropolitan, Diocese of Delhi), Rev. Fr. Reji Mathew (Dean of Studies, Orthodox Theological Seminary, Kottayam), Rev. Fr. James Cherian (Detroit), Mrs. Elizabeth Pike Kochamma (Spokane, WA) and Mrs. Achamma Philip (Austin) led the three day conference.
A large conference committee with coordinators from all 18 parishes in the Southern Region and representatives from all spiritual organizations worked hard to ensure a blessed and successful conference. The Conference was co-ordinated by Rev. Fr. Raju Daniel (Convener ), Mr Rajan Joseph (Secretary), Mr. Manoj Thomas (Secretary ) and Mr.Oommen Eapen (Teasurer).
See more pictures below
Photo Credit: Mr.Paulose Mathai ( St.Thomas Cathedral, Houston )