2013 "WORLD Council of Churches" Assembly Report from Miss Lijin Raju : Delegate from South- West American Diocese.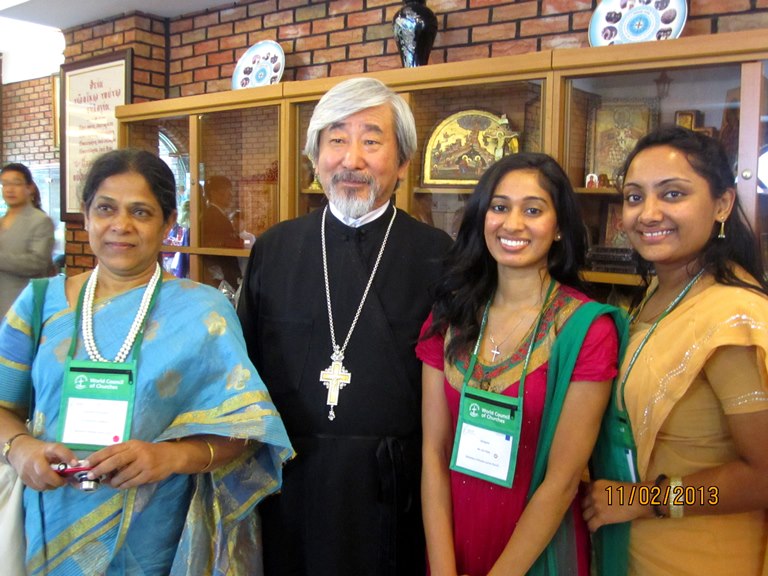 Before going to Busan, I felt a little intimidated about attending the "WORLD Council of Churches" Assembly, the largest gathering of Christians in this day and age, yet I was still thrilled at the opportunity to partake in such an awesome experience. I knew it would be a large gathering but I was not expecting over 5000 people and over 2000 Koreans organizers. What's amazing to me is that the WCC really strives to include everyone. By that I mean, this crowd does not consist of a majority of men but consists of a variety of people including women, youth, clergy and laity. There are delegates and participants from over 300 Churches here. How amazing is it that we can all come together as one body.
Not only is this an opportunity to connect with other Christians around the world but especially with other Orthodox Christians from around the world. We had an Oriental Orthodox meeting as well as a meeting of all Orthodox Churches. It was incredible to see the heads and delegates of both Eastern and Oriental Orthodox Churches sitting in one room as a unit for a session. There are different sessions each day. The setup of our days is as follows: Communal Morning prayer, assigned Bible study, break, Plenary related to theme, lunch, Madang hall (exploring exhibitions and workshops), Ecumenical conversation topics we chose in our registration, break, business plenary, evening prayer. Our days start at 8:30am and usually end around 9pm when we head for the buses that take us to our hotels. As much as I'm learning and enjoying the experience each day brings, I'm exhausted by the end of the day so I can't even imagine what the workers and committee for this assembly must be feeling.
The theme for the 10th WCC Assembly is "God of Life, lead us to Justice and Peace". On the first day, they presented the history of Korea through interpretive dancing, singing, storytelling, and videos. The presentation showed a new perspective of justice and peace in Korea and even tied in how the Koreans have struggled just like the Israelites in the Old Testament. Each day, there is a different plenary theme; so far, we've seen presentation of the theme, Asia, and Mission. Throughout this week, we'll have unity, justice, and peace presented on different days to show how it is being carried out throughout the world. We've covered topics from AIDS to the issue of unwanted girl children in India. These large sessions show the different injustices going on throughout the world as well as truly illustrating the different justice and peace being brought around the world. The various speakers dedicated to their respective works are inspiring and show the effect of the efforts of the WCC. Learning that the WCC is not just some other organization built to stand for Christian principles but rather that they work hard to act out those Christian principles as they strive towards making this a world a better place gives me hope. It is not because of the organization itself that these principles are being carried out but rather because of the hard working individual Christians coming together to work together for the betterment of the world. This is what I've learned in my progressive Ecumenical conversation (If we pray together, we stay together) as well, that it is not uniformity that produces fruit and gives glory to God but rather unity in Christ.