2014 Diocesan Clergy Conference & Diocesan Assembly - May 15,16,17 at Urshlem Center, Beasley.Texas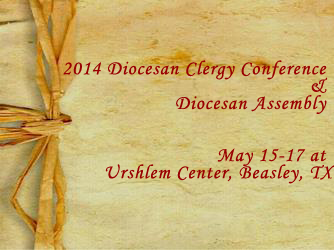 Blessings to all our Clergy and faithful
Dearly beloved,
This year our Diocesan Clergy Conference will be held from Friday May 15 to Saturday May16 and the Diocesan Assembly on Saturday May 16 and Sunday 17 at Urshlem, our Diocesan Center in Houston, Texas. The address and details are given below.
3101 Hopkins Road, Beasley, TX 77417
E-mail: dswadiocesanoffice@gmail.com
Phone: 281.403.0670 Fax: 281.459.0814
Please make your travel arrangements in advance so as to reach the Conference and Assembly on time. Please also note that the airport closest to Urshelm is Houston Hobby Airport (HOU).
Your shepherd in Christ,
Alexios Eusebius Metropolitan