Asha Abraham - 2012-2013 Dallas Hebron High School Salutatorian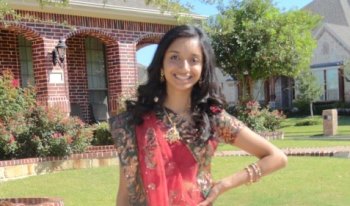 Asha Abraham, the daughter of Benny and Sally Abraham, members of Dallas  St. Mary's Orthodox Valiyapally  awarded   2012-2013 Hebron High School Salutatorian title ( The student with the second highest academic rank ).
Asha  has been involved in numerous extracurricular activities such as the City of Carrollton Youth Task Force, Hebron A Capella Choir, Student Council, Circle of Friends, National Honor Society, Spanish National Honor Society, Math Club, HOSA, Rays of Sunshine, DECA, and Music Club. She plans to attend Texas A&M University and major in Biology with a minor in Business.
Asha  is an active member of the St. Mary's Orthodox Valiyapally MGOCSM and has served as Joint-Secretary for 2 years and treasurer for 1 year in addition to being a member since 7th grade. She is also a member of the Church English choir. She has won the Parumala Trophy Test conducted by the church in 2008, 2009, 2010 and 2011. Additionally, she has won several prizes for Sunday School competitions at the church, district and regional levels.