Draft copy of the proposed liturgical book (uniform liturgical book for our diocese ) submitted to Holy Synod in February 2014.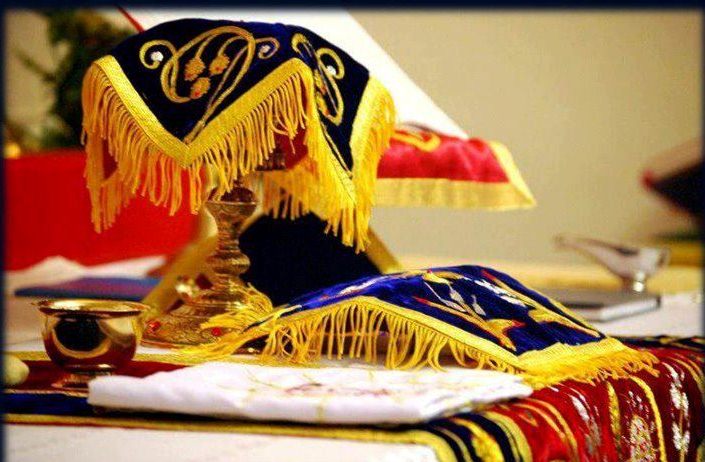 As you are aware, we had appointed a liturgical book committee led by our beloved C.O. Vargis Achen. Through the committee's efforts along with the dedicated service of a few of our younger generation priests, deacons, and seminarians of both dioceses, we have submitted to the Holy Episcopal Synod in February 2014 a draft copy of the proposed liturgical book that will include English, Malayalam, and a Malayalam Transliteration. The English translations were revised based on the original Syriac translations and have been reviewed and endorsed by Rev. Fr. Dr. Baby Varghese. During the February 2014 Synod, this work was handed over to the Synodical commission for Liturgy for its recommendation and for the approval by the Holy synod.
The proposed book was to include a column with bible references and educational material on the Holy Qurbana, but it was not completed in full. H. G. Dr. Yuhanon Mar Diascoros has agreed to do that part and His grace is working on it. It is expected that the final version of the book will be approved during the February 2015 Synod. We anticipate that with the completion of the educational material and final approval from the Synod, we can continue with the printing and distribution of the book by Spring of 2015.
Since we have time before the Synod in February, this matter was discussed with His Holiness the Catholicos by the liturgical committee and was requested that we be able to practice the new text in our churches so that we can find out any types of errors including the tune and versification. The text will be available on the Diocesan website. We encourage our clergy and faithful to use the revised English service during the Holy Qurbana in your parishes. It is only through a method of trial and error that we can find out the shortcomings of this new work and continue to improve it. As you use the revised translations, please feel free to provide us your suggestions and feedback so that we may consider further revisions for consideration before the February synod. Please email your suggestions and feedback to Dn Saju Varghese at This e-mail address is being protected from spambots. You need JavaScript enabled to view it by January 1, 2015 so that they may be considered.
Click the links below to download and print the books
Feast of the Cross ( OFFICE OF HOURS following the FEAST of the CROSS (Sleebo)
Love and Prayers,
Alexios Mar Eusebius
Metropolitan