DS-WA Department of Counseling Services - Survey Completion Request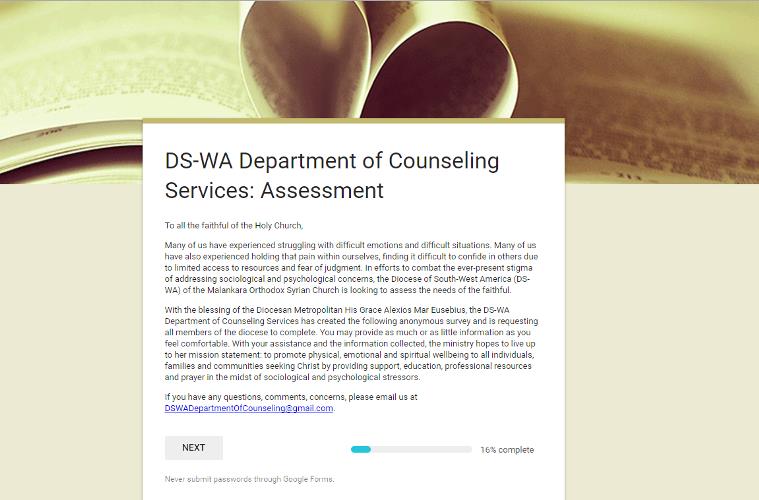 ---------------------------------------------------------------------------------------------------------------
"To promote physical, emotional and spiritual wellbeing to all individuals, families and communities seeking Christ by providing support, education, professional resources and prayer in the midst of sociological and psychological stressors."
(DS-WA Department of Counseling Services Mission Statement)
To all the Faithful of the Holy Church,
Many of us have experience struggling with difficult emotions and difficult situations. Many of us also have experiencing holding that pain within ourselves, finding it difficult to confide in others due to limited access to resources and fear of judgment. In efforts to combat the ever-present stigma of addressing sociological and psychological concerns, the Diocese of South-West America (DS-WA) of the Malankara Orthodox Syrian Church is looking to assess the needs of the faithful.
With the blessing of the Diocesan Metropolitan His Grace Alexios Mar Eusebius, the DS-WA Department of Counseling Services has created this anonymous survey . In efforts to preserve confidentiality, please know that you may provide as much or as little information as you feel comfortable.
For those that would prefer completing a hard-copy of the survey, please see the attached. If you choose to use the hard copy, we ask that you mail this survey to the following address upon completion:
Diocese of South West America
Department of Counseling Services
3101 Hopkins Road
Beasley, TX 77417
Click here to download a hard-copy of the survey
Click here to complete the online survey
If you have any questions, comments, concerns, please feel free to email us at This e-mail address is being protected from spambots. You need JavaScript enabled to view it .
In His Service,
Fr. George Paulose, BD, MSW, LCSW Intern
DS-WA Department of Counseling, Vice President
Ms. Susan Zacharia, LSW, CADC
DS-WA Department of Counseling, Secretary