DS-WA MGOCSM Council Representative Applications 2016 - Aug 15 until Friday, Sep 16, 2016
Respected Achens of the Diocese of South-West America,

The 2014-2016 term is ending and the new term for Council Representatives for DS-WA MGOCSM will begin this October. Therefore, applications will be due soon in order to determine the appointment of MGOCSM Council Representatives from each area.

Please find the attached application for Council Representatives which is officially open from August 15 until 

Friday, September 16, 2016

. After this date, applications will be reviewed by MGOCSM Vice Presidents and Youth Ministers prior to official appointment via 

kalpana

on 

October 09, 2016

.

I ask that you encourage well-qualified MGOCSM leaders in your parish or area to apply for this position with prayerful consideration. The Regional Vice President, Youth Minister, and current Council Representative for each area are capable of facilitating in the application process for any interested individuals and can be referred to as needed.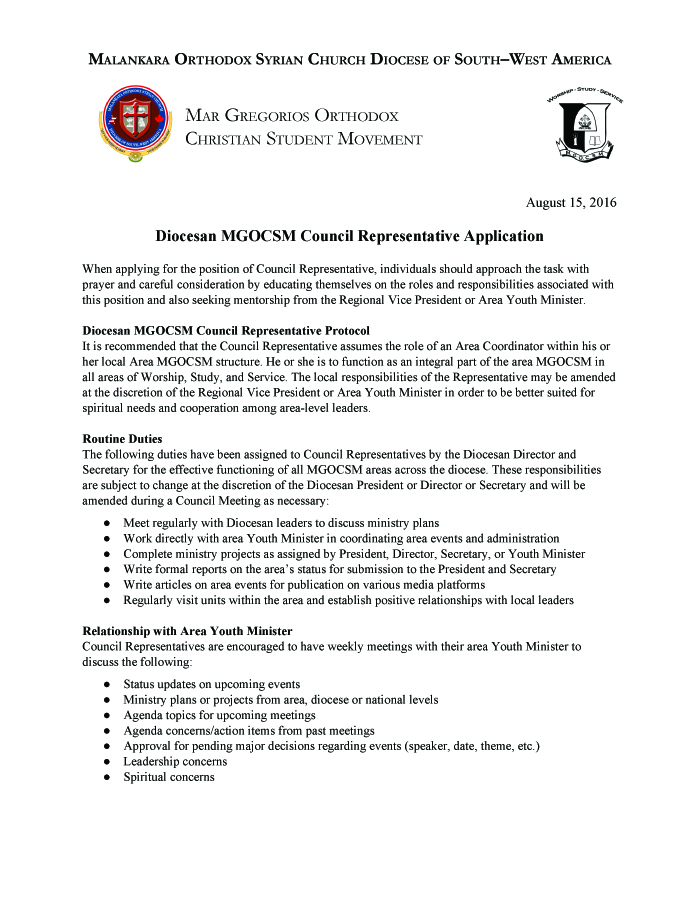 -- 

Fr. James Cheriyan
DS-WA MGOCSM Director

Lijin Hannah Raju

DS-WA MGOCSM General Secretary