"God's Humble Jungle". - Houston Area OVBS held from July 25th to 27th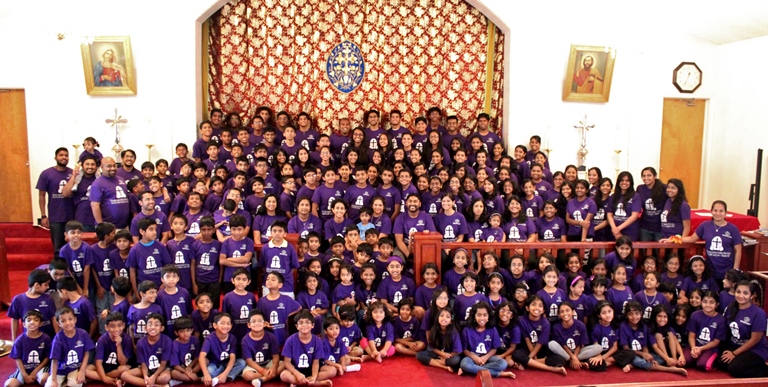 The 2013 Houston Area OVBS was held from July 25th to 27th at the St. Gregorious Orthodox Church in Houston, Texas.
Participating parishes-St. Thomas Indian Orthodox Cathedral, St. Mary's Malankara Orthodox Syrian Church, and St. Stephen's Orthodox Church of the Houston region came together for this blessed event starting with a short meeting among the teachers and the coordinators' and a dedication prayer on Wednesday 24th of July united by the theme verse for OVBS 2013 taken from Epistle of St. James: "Humble yourselves before the Lord and he will exalt you" (4:10). Rev. Fr. Mammen Mathew, the Assistant vicar of St. Thomas Orthodox Cathedral, Houston Texas led the dedication prayer and training section on Wednesday 24th.
On Thursday, July 25th at 5pm, the OVBS officially kicked off with 200 student registrants, 15 teachers and 20 volunteers under the venue theme of "God's Humble Jungle". His Grace Alexios Mar Eusebius led the opening prayers. Very Rev. Gheevarghis Aroopala Cor Episcopa (Vicar of St. Thomas Indian Orthodox Cathedral), Rev. Fr. Mammen Mathew and Rev. Fr. Shawn Mathew joined the Diocesan Metropolitan for the vespers.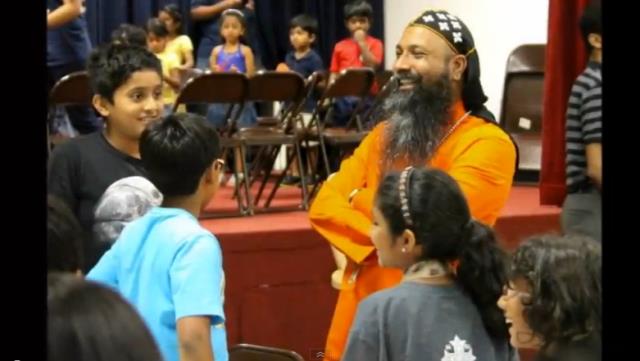 After the evening prayer His Grace visited each class introducing the OVBS theme, made the day even more special for the kids.
The second day of the OVBS (July 26th) started at 8am with morning prayers followed by singing sessions, class modules, and arts & crafts sessions. Rev. Fr. Jacob Kurian (Asst. Vicar, St. Stephens) taught everyone the Shimo Prayers. Senior students and volunteers of ages 16 and above did a humble service project at the Houston Habitat for Humanity making the whole purpose of OVBS being a fun-filled learning experience more fruitful.
With the intermittent presence and leadership of Rev. Fr. Dr. C.O. Vargis, (Vicar, St. Stephens) and Rev. Fr. Joshua George (Binoy Achen- Vicar, St. Mary's), participants had strong guidance and in-depth discussions of the theme over the three days.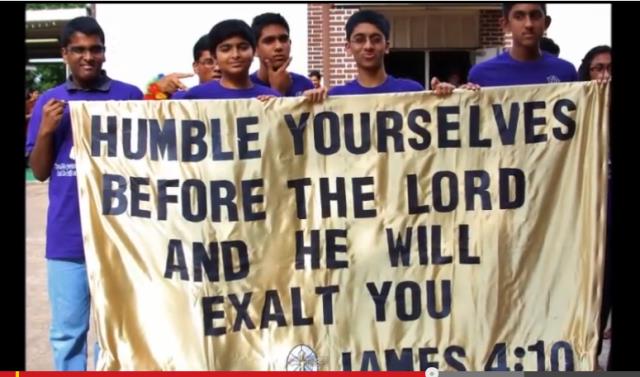 The crowning glory of the OVBS was on the third day (July 27th) as the kids memorized OVBS songs, reflected on their three days of learning experience with class-wise theatre performances. Parents and elders were spellbound as some kids shared their lessons of humility learned during this short course of time. This three day venture was huge success all around and concluded with a colorful rally around the church with students, teachers and volunteers, wearing OVBS theme T-shirts, crowns and holding OVBS flags. The children chanted OVBS songs proclaiming that Jesus is the King of this Humble Jungle where we all are humble residents exalted for every act of humility.
The 2013 Joint Houston region OVBS team proudly presents the following video presentation of this journey.
(Video presentation credits to Josna Varughese.- St. Gregorious Church)