His Holiness Baselius Marthoma Paulose II, Catholicos of the East and Malankara Metropolitan to visit the Diocese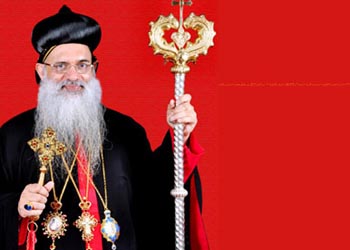 By this time, I believe all our parishes should have received the kalpana from Bava Thirumeni declaring the official visit of His Holiness to the diocese to explain the importance of Catholicate Day celebrations and collection, and to personally receive the Catholicate Day Collection for this year from each parish of this diocese. His Holiness, in Kalpana No. 159/2014, dated July 19th, 2014, has asked us to meet at 9:00 AM on Saturday, September 20, 2014 at Urshlem, the Diocesan Center at Beasley, TX for this purpose. If you've not received this, please use the attached Kalpana.
The meeting will be preceded by Holy Qurbana in the morning as the Malankara Orthodox Church celebrates the 102nd re-establishment of the Catholicate in India at the Diocesan level. I request all representatives from the parishes along with the Vicar to welcome and honor the Malankara Metropolitan and the Catholicos of the East who is making his maiden official visit to the Diocesan Center.
We know that it is difficult for us to arrange such a meeting involving all the clergy and the representatives across the diocese. It is my request to all of you to bear those difficulties to welcome Bava Thirumeni and express our solidarity to the Catholicate in India, our firm affection to the Holy Church and all the mission activities undertaken by the Church. Please consider this as our responsibility to make this event a great success and a memorable one.
May God bless you abundantly.
Your shepherd in Christ,
Eusebius Alexios/Mar Eusebius
Click here to read the Kalpana from  His Holiness. (No.159/2014, dated July 19th, 2014 )