Holy Sacrament of the sick (Kantheela Shushrusha ) of HH Moran Mar Baselios Marthoma Didymus I to be held on Friday Feb 21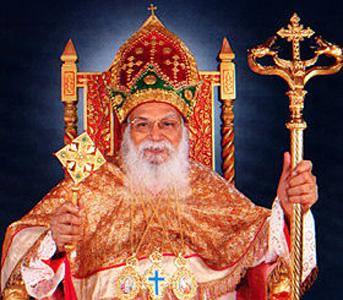 Holy Sacrament of the sick (Kantheela Shushrusha ) of HH Moran Mar Baselios Marthoma Didymus I  is to be held on Friday Feb 21 at Devalokam Aramana Chapel. All Metropolitans of the Holy Church will attend. His Holiness  Baselios Marthoma  Paulose II, Catholicos of the East and Malankara Metropolitan will lead the service. All faithful members of Holy Church are requested to keep our Valiya Bava Thirumeni  in your prayers.
ANOINTING OF THE SICK (HOLY UNCTION)
The Sacrament of the Sick is a common name used for one of the seven sacraments, the Sacrament of the Anointing of the Sick, which is administered to those who are ill or are about to undergo a serious operation, for the recovery of their health and for spiritual strength.
Anointing of the sick is a form of healing by prayer.
When one is ill and in pain, this can very often be a time of life when one feels alone and isolated. The Sacrament of the Anointing of the Sick, or Holy Unction as it is also known, remind us that when we are in pain, either physical, emotional, or spiritual, Christ is present with us through the ministry of his Church. He is among us to offer strength to meet the challenges of life, and even the approach of death.

As with Chrismation, oil is also used in this Sacrament as a sign of God's presence, strength, and forgiveness. After the reading of seven epistle lessons, seven gospel lessons and the offering of seven prayers, which are all devoted to healing, the priest anoints the body with the Holy Oil. Orthodoxy does not view this Sacrament as available only to those who are near death. It is offered to all who are sick in body, mind, or spirit.
Jesus Christ became incarnate to restore the human race that was scattered and disintegrated as a result of sin. Christ consider healing the sick is an important mission of Christ. Christ was to free the Sinner from his sins and his sense of guilt and restore him to his original state of harmony with God and humanity.
Oil is the symbol of Love and compassion. Hence the oil is symbolising divine mercy and compassion with which the sick are anointed. Not 'extreme unction' the Holy unction is a sacrament that can be received at only stage of illness. The Holy unction is administered with hope and prayer that the person may be cared of his sickness and restored to normal health. The Sacrament of the absolution of sins, as in the Holy confession is a part of Holy unction also.