Jesus Christ, the unchanging model : Diocesan MMVS 6th Annual Conference held at Houston St. Thomas Cathedral.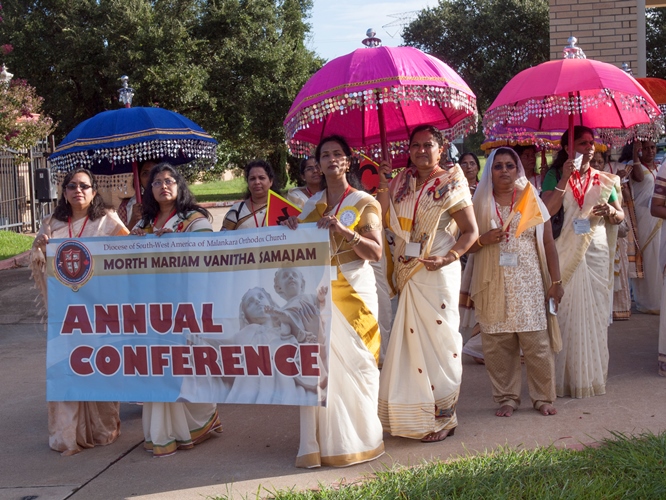 MMVS Annual Conference – October 3-5, 2014
This year's Annual Conference at the Diocese level was held at St. Thomas Cathedral, Houston. There were about 350 members of mmvs participated in it. Our Diocesan Metropolitan H.G Alexios Mar Eusebius inaugurated the conference. Thirumeni's presence was a great blessing and his guidance and support could be seen all through the days of the conference. It was a great blessing that H.G Gabriel Mar Gregorios, Metropolitan of the Diocese of Trivandrum could come to the conference and give us a wonderful message about the "Role of women in the Church- in the light of the New Testament". The key-note speaker was Rev. Fr. Jobson Kottapuram who spoke on "Jesus Christ, the unchanging model" based on 1 Peter 2:21. He spoke on the topic on 2 days in 3 sessions of one hour each. He is a very well-known speaker and kept everyone in the captivity of his articulation. There were some major events that took place during the conference:-
The matrimonial web-site "Connect" was formally inaugurated by our Diocesan Bishop. Mr. Manoj Mathew and the team who worked for it many months were also present. It is open to all and there is no registration fee involved. (http://www.connect.ds-wa.org/ )
There was an Art-N-Craft Exhibition and sale of items that were brought from different churches.
The Annual Quiz Competition at the diocese level was conducted. The first prize went to St. Gregorios Church, Houston, second was St Gregorios Church, Elmhurst, Chicago, and the third was St. Thomas Church, Los Angeles, CA.
There were two health based classes of which one was taken by Dr. Mrs. Jessica Philip Rajan on Asthma and Allergy, and the other one was by Dr. William Baun on Health and Wellness.
Prizes were distributed to the winners of Regional Quiz competitions and Annual Written Examination of the year 2013.
Three Regional Secretaries were elected for the coming year 2015.
It was decided at the Business Meeting that the Annual Conference of MMVS for 2015 will be held along with the Diocesan Family Conference at Dallas.
Financial and Annual Reports were read and were accepted unanimously.
The conference was a joint venture of four churches, St. Thomas Cathedral, St. Gregorios Church, St. Mary's Church and St. Stephen Church. They did a marvelous job and made this conference a great success with their sincere dedication and integrity. Mr. V. V. Babukutty was the grant sponsor of the conference who generously helped to make this a great success. Mrs. Mini Markose, Regional Secretary of Houston and Mrs Presy Kuruvila, secretary of St. Thomas Church, Houston were instrumental in making this program a success with their very active and sincere hard work. The members of the church committee of St. Thomas Church, the MMVS committee members of the church and volunteers from Houston and Dallas churches played a major role and their unfailing enthusiasm and help will always be remembered with great gratitude.
To be candid, the Divine Presence of our Lord was with us, all through the conference and all praise and glory go to Him.
Santhamma Mathew ( General Secretary MMVS )
More Pictures are available at http://sodharan.zenfolio.com/p774409358
Picture and video credit : Mr. Paulose K. Mathai (Houston ) and Mr. Sodharan Varghese ( California )