Mar Barnabas Educational Award 2014 - Deadline August 20,2014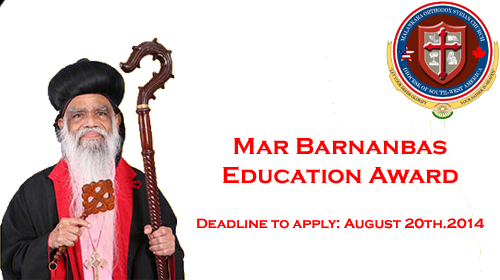 Click here to download Mar Barnabas Educational Award Application form for 2014.
Eligibility
All 12th grade students in the diocese are eligible to compete for the educations award.
Application process
All completed application should contain the following and reach the diocesan office on or before August 20th, 2014 and on the envelope clearly indicates "educations award Application".
Incomplete or late Application will not be considered.
Completed Application
Supporting academic documents, GPA from school, ACT or SAT scores
Canadian students must provide the equivalent of GPA and SAT/ACT scores.
Two Recommendation letters: Vicar, Sunday school principal or other spiritual organizations about the involvement in church / Sunday school activities
Recommendation letter: School principal or community leaders about the community/mission involvement or social awareness
Personal essay on "My life after High school- personal, religious and social". Not more than 300 words. (Also, try to include how you can use the skills you are planning to acquire through Post-Secondary education to serve the Community, the Church and the Family in which you grew up).
There will be 2 Awards (First Place and Second Place) per Region for a total of 10 awards each year. Five Regions are: South East, South, Mid-West, North West and West .
The amount for the awards will be $600 for the 1st place and $400 for the 2nd place.
Winners will be selected from each Region upon evaluation of the applications.
The decisions of the Award committee will be the Final.
The winners' list will be published with the approval of the Metropolitan.
Additional Instructions :
1) For the high school transcript, the candidate can either:
mail the official transcript (you won't get it back) or
can send in a photocopy of the original transcript (which will have the school's seal) that is attested (signed and dated) by the vicar or a school official (Principal or Vice Principal) saying "This is a true copy".
2) For SAT/ACT scores, a print out from the official website is enough.
Please send application and documents to following address on or before August 20th, 2014.
Diocese of South-West America,
Attn: Mar Barnabas educational award committee
3101 HOPKINS ROAD
BEASELY, TX 77417
Phone: 281.403.0670