Mar Barnabas Educational Award - Winners of 2015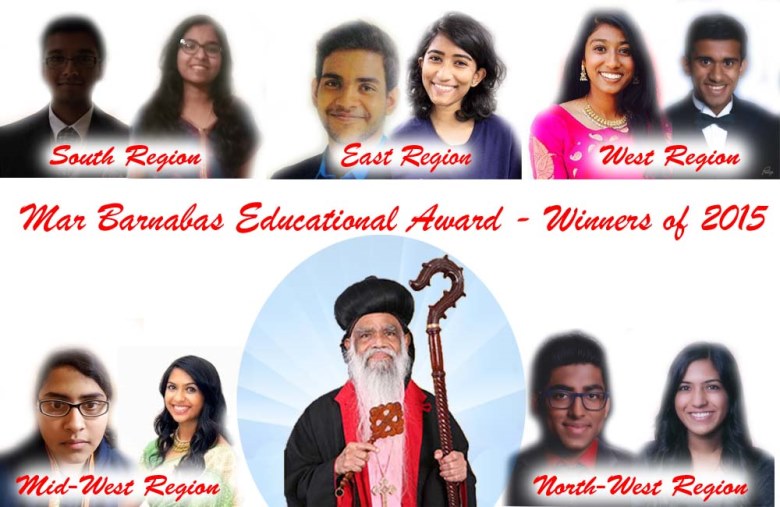 Dearly beloved,
Mar Barnabas Award was instituted by our Diocese in 2011 to honor the blessed memory of our beloved Barnabas Thirumeni. Since he loved the younger generation so sincerely, we believe instituting academic awards each year to the high school graduating students is the most befitting expression of it.
This year, we have received 12 applications from all 5 regions of our Diocese. All the applicants were of good caliber and we congratulate them for their excellence in academics, along with their dedication to the Orthodox Faith and to their community. The evaluation was tough and the non-winners scores were very close to the winner's. However, for the purpose of giving the award, we had to choose the top 2 scorers from each region.
The following winners were chosen to receive the 2015 Mar Barnabas Award:
East Region
1 Shane Thomas Mathew, St. Thomas Malankara Orth. Church, Pompano Beach, FL. 1st Place
2 Reshma Mathew, St. Gregorios Orthodox Church, Jackson Ville, FL. 2nd Place
Mid-West Region
3 Elizabeth G. Poozhikunnel St. Gregorios Orthodox Cathedral, Skokie, IL 1st Place
4 Alina Ann Varghese St. Mary's Orthodox Church, Detroit, MI 2nd Place
South Region
5 Reniba Plavila Babu St. Gregorios Orthodox Church, Houston, TX 1st Place
6 Nidhin Biju Varghese St. Gregorios Orthodox Church, Manor (Austin), TX 2nd Place
West Region
7 Vineet Thomas Mathew, St. George Orthodox Church, Sacramento, CA. 1st Place
8 Susmitha Varghese, St. Thomas Orthodox Church, LA, California. 2nd Place
North West Region
9 Shaelynn Sarah Varughese St. Mary's Orthodox Church, Calgary, Canada. 1st Place
10 Rishab Alex St. Gregorios Orthodox Church, Edmonton, Canada . 2nd Place
The certificates and cash awards will be sent to the respective parish Vicars who are to distribute them in an appropriate manner.We pray and wish all of our children a blessed spiritual and academic future.
May the intercession of St. Thomas the Apostle, the patron saint of our church, be a stronghold for us all.
Your Shepherd in Christ,
Metropolitan Alexios Mar Eusebius