Praying the Sh'himo - Available for Download!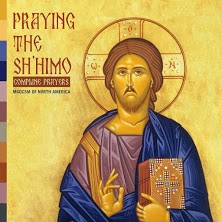 Praying the Sh'himo - Available for Download!With thanksgiving to God, the MGOCSM of North America, the official youth ministry of the Malankara Orthodox Syrian Church in North America, proudly presents 'Praying the Sh'himo – Compline Prayers'.
The Hymns of the Office of Compline, which is the canonical office of prayer done before retiring to bed (Soothara Namaskaram) have been versified by Fr. Jake Kurian, using prose in 'The Book of Common Prayer of the Syrian Church' by Bede Griffiths. The album contains the compline hymns for Monday through Saturday.
The compline hymns were recorded by Fr. Aju Mathews, Fr. Jake Kurian, and Dn. Philemon Philip. A special appreciation goes to Mr. Tony Duke (St. Mary's Valiyapalli, Dallas) who worked tirelessly in the instrumentation, sound editing, and promotion of this album.
These recordings, which include the use of instruments, are not to be imitated during liturgical worship. Rather, the purpose of this album is to encourage our young people to listen to the positive and nourishing hymns of Christ's Church, as opposed to secular music which can play a negative influence on their lives.
Let us pray that these tracks will give us an opportunity to delve into the ancient spiritual treasure of our Church, and will strengthen our prayer life and ultimately, our communion with our Creator.
Download links
Amazon MP3: Click Here
iTunes: Click Here
Google Play: Click Here