Request from 2015 Diocesan Family & Youth Conference Fundraising Committee
As it was repeatedly communicated we are publishing a diocesan directory listing all our parishes and congregations with their history and important information. An elegant 200 page colored keep sake for all those members attending the family conference. We are challenged to raise 40% total conference budget with this initiative. By subsidizing the expense thorough these fundraising initiative our intention was very clear that to elevate the diocesan Family Conference to become the most important gathering in the Diocese of South- West America. I believe you must have heard that we have already crossed 684 registrations, and expecting to be a record setting event.
Along with this good news I like to inform you that we are very much lacking cooperation from Churches for the Key initiative to publish the Parish & Priest directory. I humbly request to assign one or two historians from your parish to write at least one page information about the parish describing "How did we get here". Attached is a Sample history for reference from St Mary's Valiyapally – Dallas. This will give a clear picture about what we are looking for church history pages. As you may have noticed the information provided is the history of the parish rather than description, or activities of sub organization.
Note: Provide just the data/information to the committee, and committee will design the page accordingly this is to keep consistency in design and layout throughout the Directory. You may can add additional instruction for the designer or feel free to call the contacts listed below.
Sample History Page 1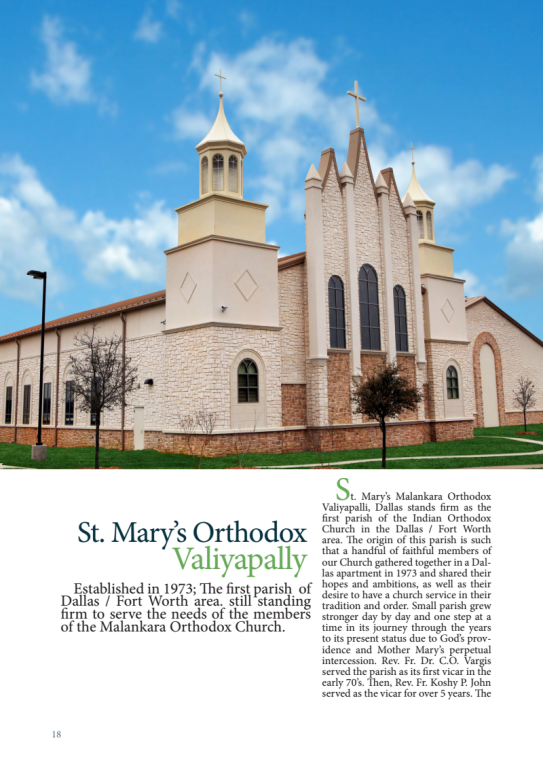 Sample History Page 2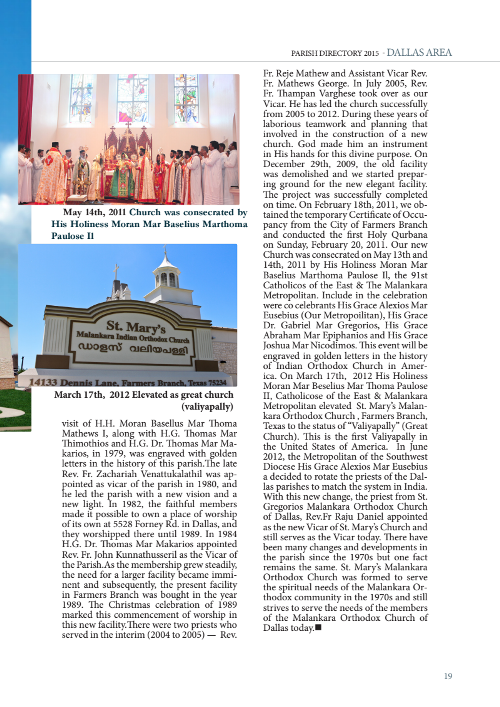 Instruction to submit Parish History
Each Parish must to submit either one page history, and have option to choose two pages based on the need.
Single page history must include One Picture of the parish or a picture relevant to the parish
Two page histories can include up to three Pictures of the parish or a pictures relevant to the parish
Cost: - Single page $ 150 optionally choose second page for additional $200
How to Submit: Easy to use form link below or email committee members listed below
Click here to Submit: Parish History Form
Instruction to submit Priest Profile
Diocese Priest section of the directory will be separate from the Church history page. We have created an easy to use form to submit the information, and upload the passport size pictures.
Cost: - No Cost
How to Submit: Easy to use form link below or email committee members listed below
Click here to Submit: Priest Profile Form
Instruction to submit Sponsorship/ Best Compliments
We have allocated two additional pages adjacent to parish pages for members to take opportunity to insert best Compliments, or favors received, Business Advertisement in the area. Please announce at least two Sundays to take advantage of this opportunity to see the family picture next to own parish history. Unlike traditional souvenir parish directory will be kept as a reference book at every house until next edition published.
Cost: - Full page $ 500, and half page $250
How to Submit: Easy to use form link below or email committee members listed below
Click here to Submit: Best Compliments Form
The fundraising committee is selling icons of Jesus, St. Mary and St. Gregorious. Cost is $100 each or $250 for all three. Images of the icons are attached.
If you have any questions , concerns or need more detail, please feel free to contacts below:
Rev. Fr. Raju Daniel - Phone: 214 476 6584 Email: This e-mail address is being protected from spambots. You need JavaScript enabled to view it
Abraham Varghese - Phone: 214 729 5345 Email: This e-mail address is being protected from spambots. You need JavaScript enabled to view it
Jiju John - Phone: 972 800 0688 Email: This e-mail address is being protected from spambots. You need JavaScript enabled to view it
Prince Abraham
Souvenir Committee Chairman