Rev. Fr. Rajesh K. John appointed as General Convener for Houston Region Family Conference.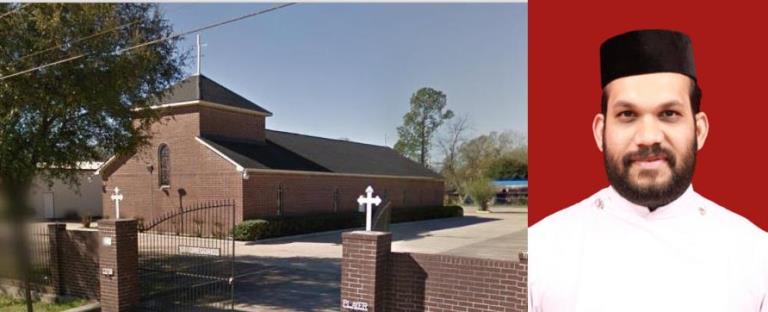 DSWA/AC/3/2016
June 15,2016
Blessings to the Vicars, Asst. Vicars, Priests of the Locality, Parish Managing Committee members and all the faithful of the parishes in the Houston area of our Diocese.
Dearly Beloved,
The South Region Family Conference to be held in Austin, TX from June 29– July 2nd has been cancelled due to low registration, but I understand that there are a lot of people who wanted to attend the conference, at least, in the area level. In this context, the Houston-area clergy meeting held on June 6th proposed to conduct a conference in any of the parishes in Houston. St. Gregorios Orthodox Church, Houston has agreed to host the family conference with the cooperation of all the parishes in the Houston area. The conference is scheduled to begin on Friday, July 1at 8:00 am and will conclude with evening prayer and valedictory meeting on Saturday, July 2. The complete program for both days will be led by the eminent speakers of our church. H.G. Yuhanon Mar Meletius (Metropolitan, Trichur Diocese), Rev. Fr. P.A. Philip (Director of Human Resource Department, Catholicate Office, Kottayam), and Rev. Fr. Shaun Mathew (Pontifical Oriental Institute, Rome) and all of our clergy in the area will lead this conference.
The conference is intended for all age groups and we hope to see maximum participation from each parish in the area. I am sure that the conference will provide an atmosphere of prayer, spiritual renewal, learning, fellowship, fun and more for the entire family.
Rev. Fr. Rajesh K. John will serve as the General Convener, Mr. Denny George Jacob is the secretary and Mr. Varghese Kanavil is the treasurer. Different committees are working tirelessly because of the short notice and so, please support their efforts and appreciate their commitment. We urge all the parishes to participate wholeheartedly in this event with your cooperation including nominating a coordinator from each parish and providing financial assistance as you do in every conference. We regret for the inconvenience due to the change in venue; however, I praise God to conduct this conference in this manner. We seek the prayers and support of all the clergy and faithful of this area for the success of the 2016 Family & Youth Conference.
May the blessings of God Almighty be showered upon us all!
Your Shepherd in Christ,
Metropolitan Alexios Mar Eusebius
-------------------------------------------------------------------------------------------------------------------------------------------------------------------------------
Family Conference Registrants,
You must have heard from your church representatives by now that the Family Conference that was scheduled to be held in Austin has been cancelled due to low registration.We realize that this has been an inconvenience for many of you, and the plan is to conduct the same conference at a Houston area level at St. Gregorios Church in Houston. Please see details in the email above from Thirumeni.
Regarding your registration for Austin, the checks (if you had already sent to me) have not been cashed, and I have returned them by mail. Please let me know if there are any questions on this.Again, please watch for details about the conference in Houston, and hope you will all be able to attend that one instead.
Thank you for your continued support.
Kurian Panicker
On behalf of the core Southern Region Family Conference Committee