The future dreams of our Diocese – By His Grace Alexios Mar Eusebius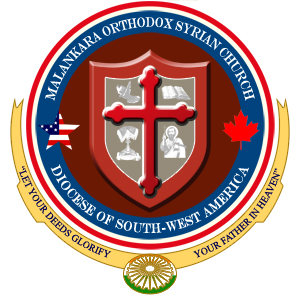 Blessings to all our Diocesan Assembly Members,
Dearly Beloved,
We are at the four year anniversary since the inception of our diocese, and we take this moment to praise God for the wondrous works He has done in our diocese through these past few years. The prayers, sacrifices, and commitment of our clergy along with our faithful have led us to grow to 51 parishes and 5 congregations in our diocese.
We take this moment to reflect back to our first diocesan assembly when talks about a comprehensive diocesan center took place. At the time, we made a decision to move forward with the purchase of the present building at 3703 Chesterdale Drive, Missouri City, TX to be used as a temporary residence and center of our diocese. However, it was well known that this would not be sufficient and that we would eventually need to work towards a comprehensive diocesan center.
Over the course of the past few years, we focused on strengthening the parishes and organizing spiritual activities for our faithful. This foundation is necessary, but as we move forward, we are realizing the growing need for a comprehensive diocesan center. We are realizing that it is becoming a high and immediate priority that we must prayerfully and seriously consider.
We have had the opportunity to visit the various regions, areas, and parishes of our diocese, and it was a common desire of everyone that there is a great need for us to plan towards a comprehensive diocesan center in North America, especially for our diocese. It is our need to have a diocesan center that encompasses such things as a diocesan administrative office, bishop's residence, chapel, conference center, monastery, etc. The following are a few points of our vision that we are proposing when considering the future of our diocese and the need for a comprehensive diocesan center.
Many of our first immigrant elders who are retired or are approaching retirement have been expressing their desire for a retirement community/home that they can live in and be a part of during their years of retirement. In America, there are several of these types of community homes, however, there are none that cater to the needs of Indian immigrants including the spiritual needs of our faithful. It is our desire to help our elders maintain close connection with another and the Holy Church and provide them with an environment and a place they can call home. Here, they can reside in the same complex, enjoy a social life, and still experience the life of the Church through daily prayer services and sacraments. The hope is that we can find land where at least 50 or more acres can be set apart for such a purpose.
As we are all aware, the growing generation in North America has a great enthusiasm and passion toward our church and sacramental way of life. A good number of our kids want to spend their vacation at the diocesan center to experience the prayer life of the church. In some instances, the youth wanted to stay for even longer periods as with certain American universities, they can earn credit toward volunteer/community service.
The values of family life and the bonds of marital relationships are weakening due to effects of a modern lifestyle and transitory environment. We need to urgently develop counseling centers for strengthening our families, pre-marital counseling, counseling and orientation for youngsters who are going to high-schools and colleges, counseling for the elderly, and counseling programs (e.g. training programs for future counselors) at the area-level and regional-level. For this, we need a permanent setup that is also equipped with modern communication facilities to reach out and provide counseling to the faithful across the diocese.
Most of our families nowadays go to India after a break of many years, sometimes five years or more, but during their extended time here in America, they do not have a place to spend a week or more in a place of different atmosphere. We need a spiritual resort where people can come and stay for extended periods to obtain relief from stress and strain, job tensions, social discomfort, etc. Also, family issues, stress, etc., are growing in our community. People want to spend a few days in a quiet and refreshing environment. An achen with a counseling background can also help them with these and other issues, and in a spiritual environment, can help these families strengthen their relationships.
We have five regions in our Diocese and many more areas in a geography covering three time zones. People of different age groups or spiritual organizations of different regions/areas need a conference facility for their annual or semi-annual meetings/conferences. Along with the Diocesan Center, if we have a well-equipped conference center that can also accommodate 100 people or more, it will be a great boost for the strengthening of our spiritual organizations
There is every possibility of more people being added to the number of clergy with the real intention of celibate life. We need a well-developed monastery in the way of our ancient faith to strengthen the monastic communities of the Malankara Orthodox Church and to showcase the relevance and richness of eastern monastic life in this western country.
We need a small and beautiful chapel in the Orthodox architectural style, and we also need a museum attached to the chapel that showcases things traditional and antique to Malankara Orthodox Syrian Christians and to Kerala. We believe that the next generation will be very interested in being made aware of their heritage and historic background. The memories and life experiences linked with those historical artifacts will surely stir the soul of anyone who sees them. We will seek donations of such artifacts from parish members to aid this effort. We also need a library that houses not only the latest books (for example Orthodox-centered commentaries, reference materials, etc.) but also other material such as a liturgical collection, digital library section, etc.
Everyone is aware that there is a strong enthusiasm among the growing generation to join seminary and to come into the leadership of the church. They are studying theology and obtaining their seminary education in different Orthodox seminaries. As a growing church in America, we need to start a minor seminary as a beginning in affiliation with any of the major Orthodox seminaries. Our dioceses in America are blessed with qualified clergy who can train future priests in our tradition. This seminary can also be a center for strengthening our spiritual organizations by giving input and guidance through teaching and literatures. Again, this can be a center to translate our liturgies and prayers, and develop spiritual and theological literature according to the needs of our people here.
Ultimately, it would be a blessing to see all of the above mentioned units in one campus since each one are mutually supporting and each unit can best grow with the support of the other. The people who travel from across the Diocese to one place can get spiritual nourishment from all these units. For example, if we have a conference of any spiritual organization for a few days, they can get a taste of monastic life since it is on the same campus.
By the recommendation of the Diocesan Council, we appointed Mr. Elson Samuel & Mr. Charly Varghese to seek properties with few acres of unrestricted land. They implemented the search and looked at both vacant land properties as well as large plots with existing buildings.
Details of a Proposed Property
One particular property that was found is located at 3101 Hopkins Rd, Beasley, TX 77417 and was one that stood out the most.
Currently on the property, there is a residential home (7,175 sq. ft.) built to a high standard with modern day upgrades. The owner spared no expense in building and furnishing this two-storied home, which is equipped with wood flooring, a spacious office, 6 bedrooms (one master bedroom on each floor), 5 and 1/2 baths, 8 air conditioners, 4 wells, 3 fireplaces and a large open-air balcony on the second floor. There is one large barn which can easily be converted to a Conference Hall (there is a fully furnished suite above this barn); a separate guest house with 3 bed rooms, a large pond and enough land (100 acres) to build all the facilities we will ever need. The property is also unrestricted regarding usage, and the already existing mansion and other buildings makes it much cheaper and easier to do further improvements/modifications to the property. The current list price for this entire property including the current home, guest homes, and the entire 100 acres of land is 1.35 million dollars.
A concern regarding the property is that this is bit distant from where most of our faithful live, whose presence and cooperation is important for a well-functioning Diocesan Center. Since it is located even further southwest, this increases commuting times from 15 to 30 minutes each way. At present, there are no other buildings or commercial or shopping facilities in the surrounding places. For making ordinary purchases we would need to travel a little further.
Though we are currently concerned by these factors, this part of Houston is experiencing rapid growth and many of our families are shifting to KAITY and nearby cities. Thus, in the near future these concerns will be eliminated by the natural growth of this area.
We had the opportunity to visit this site with the local priests in the Houston area as well as Mar Severios Thirumeni and Mar Theophilos Thirumeni to get their opinions. Everyone was of the opinion that it is an ideal property at a reasonable price with a lot of potential for future growth. We also briefly discussed this matter with His Holiness the Catholicos who is of the opinion that there is a need for this in our diocese, and that we should proceed to work towards the purchase of the property as a goal for our diocese.
To accomplish any such vision, we must start by implementing both short-term and long-term goals. We are seeking the valuable feedback of our diocesan assembly members as you are at the forefront of leadership within our diocese. As we prepare for our diocesan assembly, it is our hope that this matter will be seriously considered, and that it will be an opportunity for us to clarify questions and concerns and come to a conclusion regarding this proposed property.
Seeking your prayers and look forward to seeing everyone next week.
Your Shepherd in Christ,
Alexios Mar Eusebius
Metropolitan