Update on His Grace Zachariah Mar Theophilos from Diocesan Center, Houston - Monday, June 24, 2013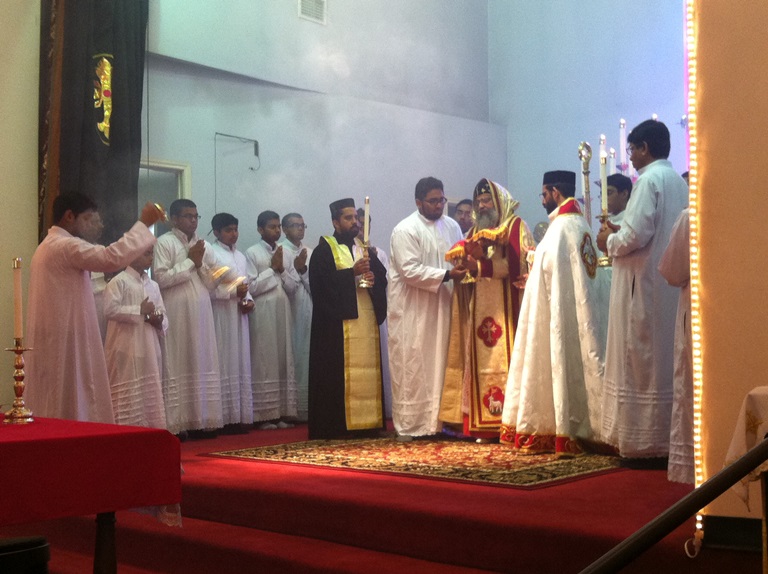 By God's grace and mercy and by everyone's continuous prayers, Metropolitan Zachariah Mar Theophilos is recovering and gaining strength each day. Just three days ago Thirumeni was able to walk more than 300 steps without a walker or cane. His Grace's range of movements are continuously getting better. Thirumeni was able to celebrate Holy Qurbana at the Diocesan Center in Houston
on Saturday
.
On Sunday
, Mar Theophilos was blessed to be able to celebrate the full Qurbana at St. Gregorios Orthodox Church, Houston.
Thirumeni's blood sugar levels and blood pressure are monitored multiple times daily, physiotherapy is done most days of the week and doctors visit regularly to make sure Thirumeni is in as best a condition as possible to make the journey to India. It must be noted that His Grace's left knee continues to bother him especially when he puts weight on it although this is much less than before.
Thirumeni plans to leave from the USA on
Monday, July 1, 2013
, traveling on Emirates and accompanied by an Achen. Thirumeni will reach Kozhikode on
Wednesday, July 3, 2013
and will, at a later juncture, go to Mumbai for further treatment at Tata Hospital.
Please continue to keep Thirumeni in your valuable prayers for a full and speedy recovery.
Metropolitan Alexios Mar Eusebius