Rev. Fr. P. M. Cheriyan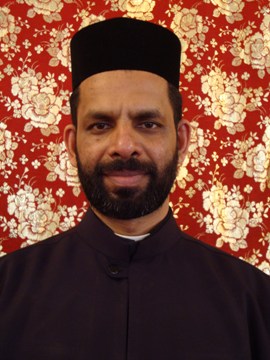 Introduction:
Rev Fr. Mathai P Cheriyan Jr is currently serving as the Vicar of St. Gregorios Orthodox church , Houston, Texas. He had been serving this parish since June 18, 1995.  Rev Fr. P.M. Cheriyan  served as the Diocesan Secretary of the Diocese of South-West America for the year 2009-10.
Cheriyan Achen has a gifted voice.  He is well versed in liturgical music of our church.
Background:
Fr. P.M.Cheriyan was born into the family of Mr. P.C. Mathai and Mrs. Aleyamma Mathai at Meenagadi, Wayanadu in kerala on 6th March 1964.  From early child hood he was very religious and took an active role in church matters.  He attributes most of these qualities to his parents.
After attending college for 2 years he joined the Orthodox Theological Seminary and earned the diploma GST.
On March 13, 1988 he was ordained as Deacon by H.B. Thomas Mar Themothios (present Catholicos).  H.G.  Kuriakose Mar Clemis ordained him as full Deacon on February 4, 1993.  He was ordained Priest by H. B. Thomas Mar Thimothios (present Catholicos) on March 6, 1993.
Before taking the responsibility of the Vicar of St Gregorios orthodox church Houston, Achen served the parishes of St. Mary's church Thaloor and St. Thomas church Philadelphia.
Family:
Fr. Cheriyan is married to Jeena Cheriyan (D/O Rev. Fr. Mathukutty Varghese).  They along with their three children Feba, Christina and Joshua are residing at 15319 Truslow Point Lane, Sugarland, TX 77478.