Diocesan MGOCSM Council meeting held at "Urshlem" Diocesan Center- Beasley, Texas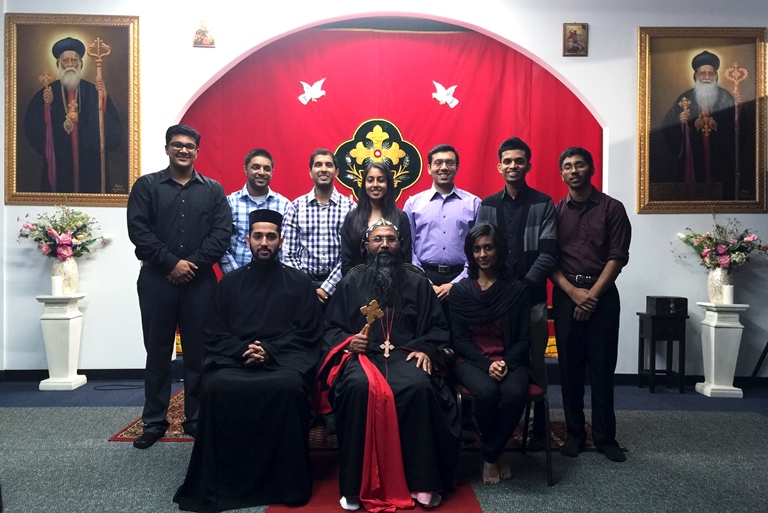 The MGOCSM Council of the South-West American Diocese met this past weekend from January 16th to January 18th to continue the ministry of MGOCSM. The meeting was presided by His Grace Alexios Mar Eusebius (Metropolitan and President of MGOCSM of the Diocese of South-West America). Additionally, Rev. Fr. Joel Mathew (Diocese MGOCSM General Secretary) and Ms. Sangeetha Thomas (Diocesan MGOCSM Joint-Secretary) were also present at the meeting.
As the meeting began, His Grace Alexios Mar Eusebius reminded the Council the importance of using the ministry of MGOCSM to reach all potential members throughout the parishes of our diocese, big or small. Often times smaller units are overlooked and, in turn, the Body of Christ suffers. Joel Achen added to the opening remarks in stressing the importance of the position to which the new Council Members were appointed. The Council was reminded to take initiative in all tasks to further the growth of this ministry.
After the English Sh'himo Prayer initiative started, the Malankara Orthodox Church in America was introduced to a beautiful and ancient tradition. All around the Diocese we can see MGOCSM participants participating in sh'himo prayers at retreats, conference, and even their own homes. As this initiative continues onto its next phase, a budget was approved to release a second edition of the prayers. This edition will include prayers for every hour, every day of the week, which will be beneficial to engage our youth into a more regular prayer life.
Our Council Members presented and discussed various ministry projects for the upcoming 2015 year. Amongst the topics discussed were the Urshlem Summer Camp, Domestic Service, Leadership Camp 2016, Campus Ministry, Public Relations and International Missions. It was decided that the 2016 Leadership Camp would be hosted by the Dallas/Oklahoma Area. Members also discussed the effectiveness of Leadership Camp in recent years and explored new ideas to engage participants so that camps can continue producing the dynamic effect that it has always had on its participants. After Leadership Camps, most participants leave with a spiritual fire that burns hot and high, but that fire dies down as many settle back into school, work, and busy secular lives. To make sure our leaders in the area return to implement what they have taken from Leadership Camps, the Council discussed having continued meetings with these leaders throughout the year.
The Council has recognized a need to focus on domestic services and missions. Although doing something on a national level might be tough, neighboring MGOCSM areas were encouraged to host service events to further the fellowship and charity between the coupled areas. In order to enhance participation in our MGOCSM missions events, Council Members were encouraged to embark on at least one mission trip in their new two-year term. Plans to participate in a diocesan effort to offer relief to our brothers and sisters who are undergoing persecution in the Middle East were also discussed.
The Council hopes that all MGOCSM units in the diocese will continue to support all initiatives taken by this ministry. Please keep these newly appointed Council Members and all current and future endeavors of this organization in your daily thoughts and prayers. Without your support and divine guidance from God, this ministry would not be possible. Let us all do our parts to keep the MGOCSM one of the most progressive and powerful organizations in our church!