Diocese Extended Mar Barnabas Scholarship Application Deadline to August 15, 2013
The deadline for the Mar Barnabas Scholarship has been extended to August 15, 2013, to accommodate applicants whose results will be released only by the end of July.Only High School graduates of the class of 2013 are eligible to apply for this scholarship.
Download Scholarship Application Form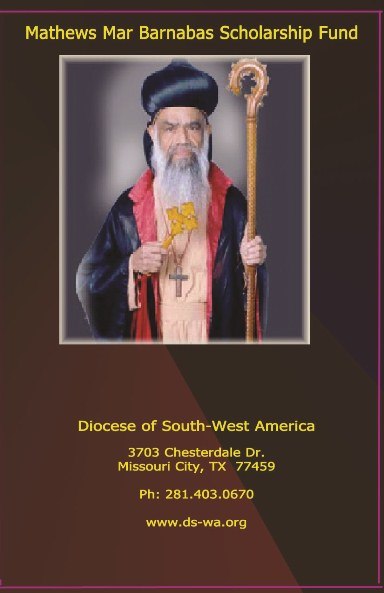 Eligibility
All 12th grade students in the diocese are eligible to compete for the scholarship.
Application process
All completed application should contain the following and reach the diocesan office on or before August 15th, 2013 and on the envelope clearly indicates "Scholarship Application".
Incomplete or late  Application be not be considered.
1.  Completed Application
2.  Supporting academic documents, GPA from school, ACT or SAT scores
3.  Two Recommendation letters: Vicar,Sunday school principal or other spiritual organizations about the involvement in church activities
4.  Recommendation letter: School principal or community leaders about the community/mission involvement or social awareness
5.  Personal essay on "My life after High school- personal, religious and social". Not more than 300 words.
The maximum award per person is One thousand US dollars.
There will be five such awards available every year.
One applicant will be selected from each of the five regions of the diocese: Midwest Region, Northwest region, South region, Southeast Region and West Region.
If there is more than one applicant with the same credentials, the scholarship amount for that region ($1000) will be divided among the winners.
The decisions of the Scholarship Fund committee will be the final.
Send application and documents to following address on or before August 15th, 2013.
Diocese of South-West America,
Attn: Scholarship Committee
3703 Chesterdale Dr.
Missouri City, TX 77459
Phone: 281.403.0670