Divya Bodhanam DOCE graduation- St Gregorios Orthodox Church , Elmhurst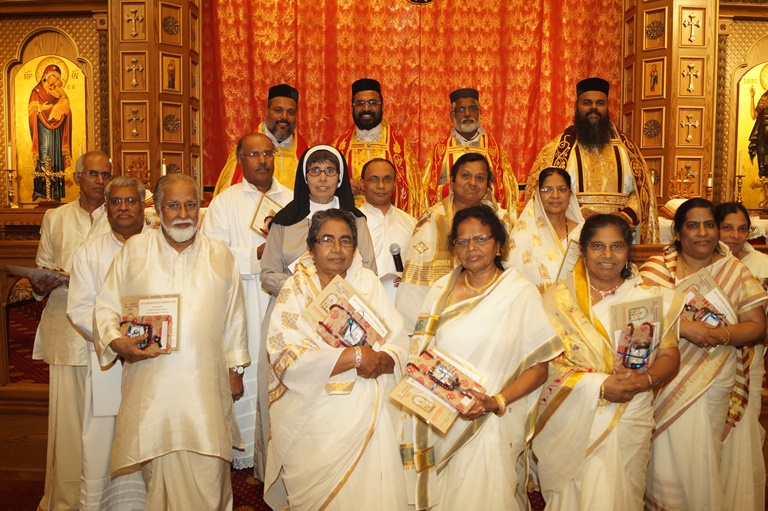 In humility, we state that 13 members from St Gregorios Orthodox Church, Elmhurst (previously Oak Park) graduated in the Diploma Class of Divyabhodhanam 2015. Having been certified in Proficiency in Orthodox Christian Education (P.O.C.E) in 2011 Divyabhodhanam class, we started the Diploma course in Orthodox Christian Education (DOCE) in January 2012 under the guidance of Rev Dr. Ninan V George. Ninan Achen subsequently was called to be the Diocese DB Director in Sep, 2012. Achen taught and completed 6 books. In July, 2014 Rev Fr Mathews George & Rev Fr Teji Abraham took charge, and we continued our classes under their guidance and completed the remaining 4 books. We conducted these classes regularly, twice a month after HQ on Sundays. 49 classes were conducted for this DOCE course and we successfully completed all the ten books. The graduates were honored with the Diploma certificates on Sunday September 6th, 2015.
Our Achens have taken lot of trouble and effort to conduct the classes in addition to the preparation required for the class- at times remaining hungry, managing multiple meetings simultaneously or balancing different people or matters, or sometimes taking the class in spite of not feeling too good. Their commitment to education of the laity on matters of faith and doctrines of the Church resulted in us completing the course in such a timely manner.
The attendance at the classes was exciting - they were great fellowship opportunities, learning together, raising questions and obtaining authentic answers and discussing the Church faith and teachings. We also take this opportunity to fondly remember all the spiritual fathers who have inspired, taught and encouraged us in our DB study besides Ninan Achen, Mathews Achen and Teji Achen : Rev Dr MK Thomas, HG Geevarghese Mar Yulius, and Rev Fr V M Shibu. In addition, we were blessed to have Professors from our Nagpur and Kottayam seminaries teach us in these classes. We also place on record the dedicated services of late Mrs. Marykutty Mathews the previous charismatic and dedicated coordinator. We praise and glorify God for blessing us to be the first batch of DB DOCE graduates in the South West diocese of USA. God willing, we plan to start the GOCE class, the DB degree course .All praise and glory be to Almighty God!
Send by Betty Gladstone