Holy is His Name : Diocese of South–West America now officially owns the new 100 acres proposed Diocesan center property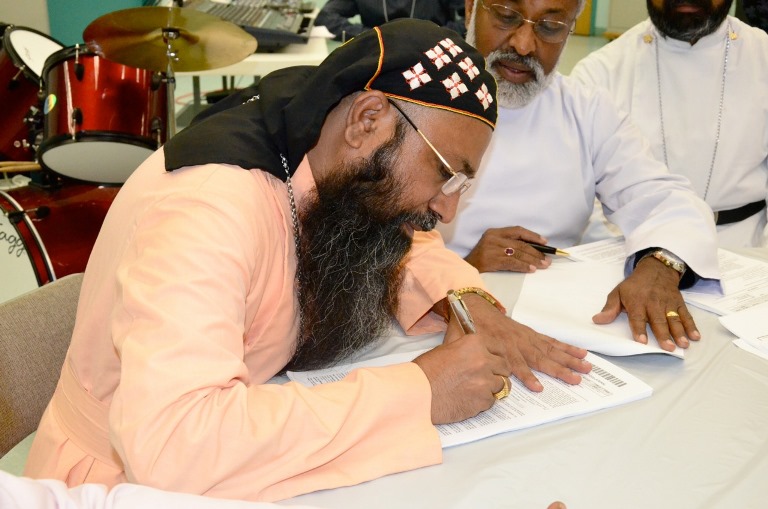 His Grace signing the official closing documents
Blessings to our Cor-Episcopoi, Priests, Deacons, and the Diocesan Assembly Members ,Diocesan Council, Sabha Managing Committee Members & Association Members

Dearly Beloved,

We are pleased to inform you that the new diocesan center property located at 3101 Hopkins Road in Beasley, Texas has been formally closed and the purchase has been officially executed as of 7:00 PM EST on Friday, July 26, 2013. We had anticipated the closing to be done yesterday, but due to some additional paperwork the closing was completed in Tampa at the East Regional Family Conference of our diocese.

We express our praises to God Almighty who has enabled us to embark on this new journey within such a short period of time since the establishment of our diocese.The enthusiasm and efforts of our clergy and faithful has enabled us to come together and act in one accord.We would like to specifically thank the delegates of the Diocesan Assembly held in Detroit May 17-18, 2013, for approving the proposal to purchase the property in Beasley, TX.
We take this opportunity to especially thank those who worked behind the scenes to make this all possible including the Diocesan Secretary Fr. Joy Pyngolil & Council members,. The council members in one accord worked for this great achievement. We specially thank Elson Samuel and Charly Varughese for their effort as the committee nominated from the council to work for it. Mr. Manoj Mathew who initially located the property, Mr. Rooy Eapen who served as the realtor and adviser, and Mr. Bency Issac who helped with all the bank loan processing need to be specially acknowledged. There are numerous others who have offered their prayers, love, and financial contributions, and we thank you and seek your continued support as we have reached this milestone and take our initial steps on this new journey.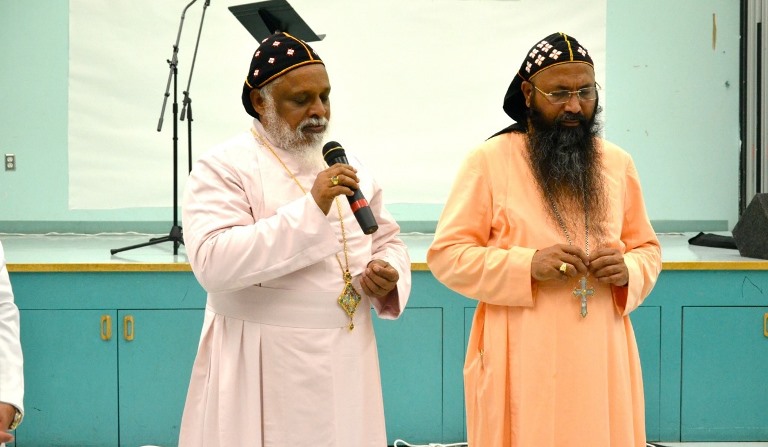 Mar Dimithrios leading the prayers before signing the official closing papers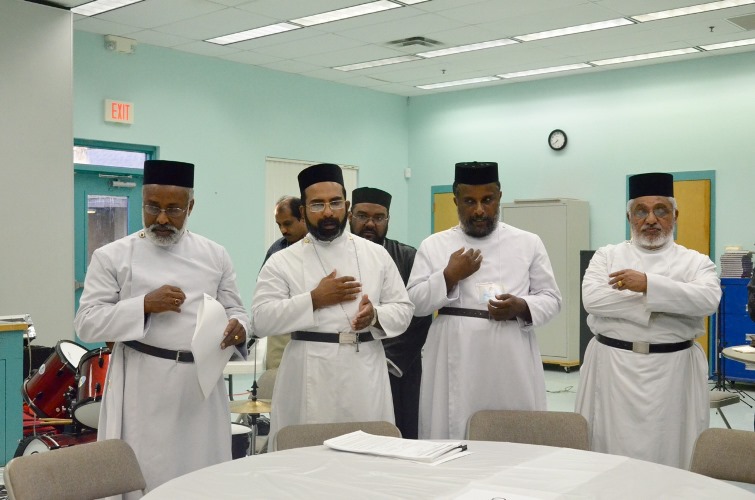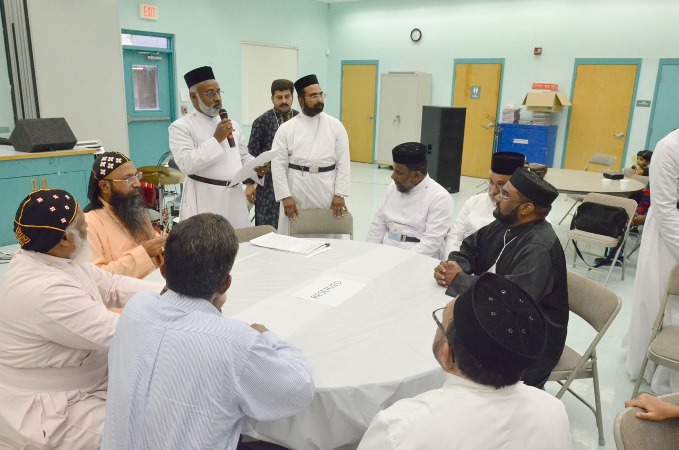 Details of the New Property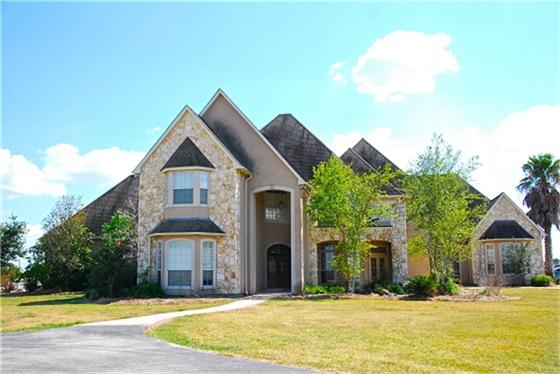 The property is located at 3101 Hopkins Rd, Beasley, TX 77417 .
Currently on the property, there is a residential home (7,175 sq. ft.) built to a high standard with modern day upgrades. The owner spared no expense in building and furnishing this two-storied home, which is equipped with wood flooring, a spacious office, 6 bedrooms (one master bedroom on each floor), 5 and 1/2 baths, 8 air conditioners, 4 wells, 3 fireplaces and a large open-air balcony on the second floor. There is one large barn which can easily be converted to a Conference Hall (there is a fully furnished suite above this barn); a separate guest house with 3 bed rooms, a large pond and enough land (100 acres) to build all the facilities we will ever need. The property is also unrestricted regarding usage, and the already existing mansion and other buildings makes it much cheaper and easier to do further improvements/modifications to the property. The purchase price for this entire property including the current home, guest homes, and the entire 100 acres of land is 1.275 million dollars.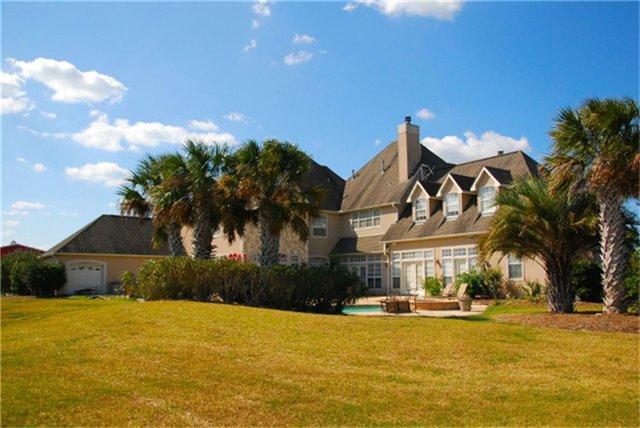 The following are the future dreams of the diocese.
Many of our first immigrant elders who are retired or are approaching retirement have been expressing their desire for a retirement community/home that they can live in and be a part of during their years of retirement. In America, there are several of these types of community homes, however, there are none that cater to the needs of Indian immigrants including the spiritual needs of our faithful. It is our desire to help our elders maintain close connection with another and the Holy Church and provide them with an environment and a place they can call home. Here, they can reside in the same complex, enjoy a social life, and still experience the life of the Church through daily prayer services and sacraments. The hope is that we can find land where at least 50 or more acres can be set apart for such a purpose.
As we are all aware, the growing generation in North America has a great enthusiasm and passion toward our church and sacramental way of life. A good number of our kids want to spend their vacation at the diocesan center to experience the prayer life of the church. In some instances, the youth wanted to stay for even longer periods as with certain American universities, they can earn credit toward volunteer/community service.
The values of family life and the bonds of marital relationships are weakening due to effects of a modern lifestyle and transitory environment. We need to urgently develop counseling centers for strengthening our families, pre-marital counseling, counseling and orientation for youngsters who are going to high-schools and colleges, counseling for the elderly, and counseling programs (e.g. training programs for future counselors) at the area-level and regional-level. For this, we need a permanent setup that is also equipped with modern communication facilities to reach out and provide counseling to the faithful across the diocese.
Most of our families nowadays go to India after a break of many years, sometimes five years or more, but during their extended time here in America, they do not have a place to spend a week or more in a place of different atmosphere. We need a spiritual resort where people can come and stay for extended periods to obtain relief from stress and strain, job tensions, social discomfort, etc. Also, family issues, stress, etc., are growing in our community. People want to spend a few days in a quiet and refreshing environment. An achen with a counseling background can also help them with these and other issues, and in a spiritual environment, can help these families strengthen their relationships.
We have five regions in our Diocese and many more areas in a geography covering three time zones. People of different age groups or spiritual organizations of different regions/areas need a conference facility for their annual or semi-annual meetings/conferences. Along with the Diocesan Center, if we have a well-equipped conference center that can also accommodate 100 people or more, it will be a great boost for the strengthening of our spiritual organizations
There is every possibility of more people being added to the number of clergy with the real intention of celibate life. We need a well-developed monastery in the way of our ancient faith to strengthen the monastic communities of the Malankara Orthodox Church and to showcase the relevance and richness of eastern monastic life in this western country.
We need a small and beautiful chapel in the Orthodox architectural style, and we also need a museum attached to the chapel that showcases things traditional and antique to Malankara Orthodox Syrian Christians and to Kerala. We believe that the next generation will be very interested in being made aware of their heritage and historic background. The memories and life experiences linked with those historical artifacts will surely stir the soul of anyone who sees them. We will seek donations of such artifacts from parish members to aid this effort. We also need a library that houses not only the latest books (for example Orthodox-centered commentaries, reference materials, etc.) but also other material such as a liturgical collection, digital library section, etc.
Everyone is aware that there is a strong enthusiasm among the growing generation to join seminary and to come into the leadership of the church. They are studying theology and obtaining their seminary education in different Orthodox seminaries. As a growing church in America, we need to start a minor seminary as a beginning in affiliation with any of the major Orthodox seminaries. Our dioceses in America are blessed with qualified clergy who can train future priests in our tradition. This seminary can also be a center for strengthening our spiritual organizations by giving input and guidance through teaching and literatures. Again, this can be a center to translate our liturgies and prayers, and develop spiritual and theological literature according to the needs of our people here.

May God Almighty lead and guide our diocese into the future.

Your Shepherd in Christ,

Alexios Eusebius Metropolitan
Diocese of South-West America