Memory Eternal! Passing away of H.H. Ignatius Zakka Iwas, Patriarch of Antioch, Syriac Orthodox Church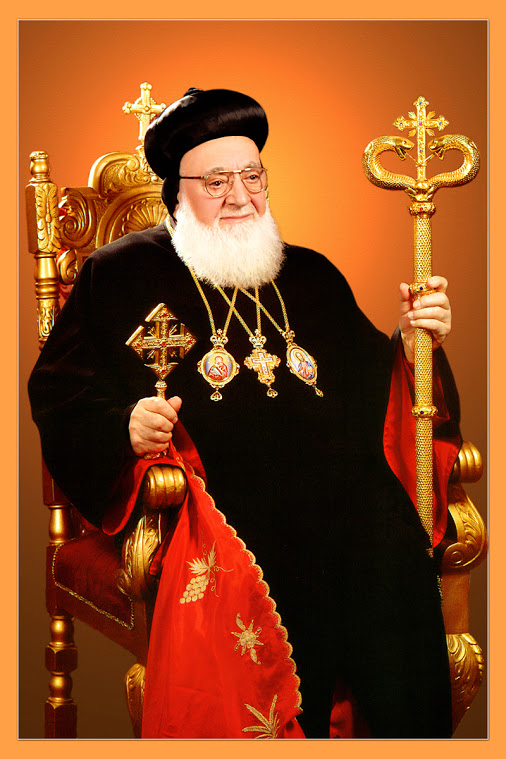 Memory Eternal!
Give rest, O Lord, to the souls of Thy servants who have fallen asleep!
His Holiness Patriarch of Antioch and all the East Ignatius Zakka I Iwas, has entered eternal rest. The Patriarch passed away in Germany on March21, 2014 at twelve noon, due to a massive heart attack. The Patriarch was under medication for a long time due to his fragile health condition. His Holiness had been residing in Lebanon since the beginning of civil war in Syria.
Patriarch Ignatius Zakka Iwas is the 122nd Syriac Orthodox Patriarch of Antioch and all the East. Patriarch Ignatius Zakka Iwas is known for his involvement in ecumenical dialogue. He was a president of the World Council of Churches and he had written many books and articles. He served as Patriarch for over 30 years, and began his life in the ministry over 60 years ago. He was present, as a deacon, to see the reunification of the Malankara Church in 1957, but also saw it split again in 1972 while Metropolitan of Bagdad. During his time as Patriarch there were times for hope of healing the division in the Malankara Church, butunfortunately never came to fruition.
The Patriarch was born on 21 April 1933 in Mosul, Iraq, and his given name was Sanharib Iwas. He completed his elementary studies at the school of Our Lady's Parish and was transferred to St. Thomas Syriac Orthodox Church School, both in Mosul. In 1946, he began his theological studies at Mor Ephrem seminary in Mosul. In 1948, while still a student at Seminary he was ordained as a Korooyo (Reader). In the year 1953, he was ordained to the rank of Hy'podiakono (Sub-Deacon). The following year he was tonsured a monk. He left Mosul at that time to become secretary to the Patriarchs, H.H. Ignatius Afrem I Barsoum and then H.H. Ignatius Yacob III. In 1955 he was promoted to the rank of M'shemsono (Deacon).
On 17 November 1957, Patriarch Yacob III ordained him a priest. In 1960 he pursued further studies in New York, where he studied oriental languages and completed a master's degree in English at City University and a further master's in pastoral theology at the General Theological Seminary.
In 1962 and 1963, Iwas was delegated by the patriarch as observer at Second Vatican Council. On November 17, 1963, he was consecrated by Patriarch Yacob III as Metropolitan of Mosul, and he took the episcopal name, Severios. The next year, during renovation work on the sanctuary wall of the Metropolitan church in Mosul, relics of the St. Thomas the Apostle were found. In 1969 he transferred to be archbishop of Baghdad and Basra. Nine years later, he was given additional responsibility for the new diocese of Australia.
Following the death of Patriarch Yacob III on 25 June 1980, Metropolitan Severios Iwas was elected by the synod of the church to be the 122nd Syriac Patriarch of Antioch. He was enthroned as Patriarch on September 14, 1980, in St. George's Patriarchal Cathedral in Damascus.
His Holiness Moran Mar Baselios Marthoma Paulose II, Catholicos of the East and Malankara Metropolitan, has sent a letter of condolence to the Syriac Orthodox Church, on behalf of the Malankara Orthodox Church. His Holiness has also directed all parishes in the Malankara Church to remember the newly departed Patriarch during the Divine Liturgy on Sunday, March 23, and offer prayers of incense for His Holiness.
May the memory of His Holiness, Patriarch Ignatius Zakka Iwas be eternal!
Send by
Rev. Fr. Christopher Mathew
Director Interchurch Relations