New Office Bearers for Spiritual Organizations and Various Ministries appointed.
Metropolitan of the Diocese of South West America, His Grace Alexios Mar Eusebius had appointed following priests and laity to serve the various spiritual organizations and ministries for the Diocese until further orders through Kalpana DSWA/C/11/2015 September 24, 2015 to the parishes of the diocese.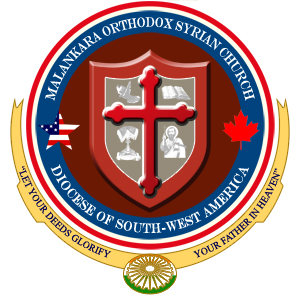 Blessings to our Cor-Episcopoi, Priests, Deacons, Parish Managing Committee members, and all the faithful of our Diocese.
Dearly Beloved,
We praise God for the growth and activities of the various ministries and departments of our diocese during these years. This growth is primarily due to the commitment of the clergy and lay leaders from various parts of our diocese who have worked together to coordinate many efforts, and we take this opportunity to thank them for their valuable contributions.We thank all those who have devoted their time and energy as the office bearers and provided leadership to the different spiritual organizations. May God Almighty bless them for their service to Christ and His Holy Church.
The leadership of the ministries and departments of our Diocese have been reorganized till further order. Attached to this kalpana is an official listing of all the ministries and departments of our diocese with the current office bearers as well as those who are being appointed effective October 01, 2015 or will be continuing their term. We pray for God's blessings, wisdom, and guidance to be upon these individuals as they take upon these positions of leadership. May the Holy Spirit guide them to be servant leaders and lead them to a fruitful ministry in His vineyard.
We seek the whole-hearted prayers, support, and cooperation of all the clergy and faithful of our diocese and pray that the ministry of our diocese will continue to grow in the coming years.
May the blessings and mercies of God Almighty be showered upon us all. Your Shepherd in Christ, Alexios Mar Eusebius Metropolitan
Your Shepherd in Christ,
Alexios Mar Eusebius Metropolitan
---
Newly Appointed Office Bearers  of the Diocese (Effective October 1, 2015)
Vice-President --- Rev. Fr. Daniel George (Chicago)
Secretary ---  Mrs. Linju Abraham (Chicago)
Director --- Rev. Fr. George Paulose (Tampa)
Secretary--- Mrs. Mariamma Jacob (New Orleans)
Secretary --- Rev. Fr. P.C. George (Detroit)
Director --- Rev. Dr. Mathew Koshy (Atlanta)
Secretary ---  Mr. Manoj Thomas (Atlanta)
Fellowship of Orthodox Christians in the United States (FOCUS)
Director --- Rev. Fr. Jake Kurian (Houston)
Secretary --- Mr.Reju Mathews
Director --- Rev. Fr. Christopher Mathew (Dallas)
Secretary --- Ms.Sangeetha Thomas (Dallas)
Liturgical Resource Development (LRD)
Director --- Rev. Fr. Joel Mathew (Houston)
Project Manager --- Mr. Jobby Jacob (Houston)
Treasurer --- Mr. Jason Abraham (Los Angeles)
Resource Development Team
Rev. Dn. Saju Varghese (California) -- Full-time
Rev. Fr. Jake Kurian (Houston) -- Collaborator
Rev. Dn. Pradeep Hatcher (Spokane) -- Collaborator
Public Relations Officer (PRO)
Mr. Yeldho Peter (Houston)
Mar Gregorios Orthodox Christian Student Movement (MGOCSM)
Director --- Rev. Fr. James Cheriyan (Cleveland)
General Secretary ---  Ms. Lijin Raju (Dallas)
Vice-Presidents
East Region --- Rev. Fr. George Daniel (Atlanta)
Midwest Region --- Rev. Fr. Abi Chacko (Chicago)
Northwest Region --- Rev. Fr. Paul T. Varghese (Vancouver)
South Region --- Rev. Fr. Joel Mathew (Houston)
West Region --- Rev. Fr. Thomas Mathai (San Francisco)
Director --- Mr. Manoj Mathew (Houston)
Secretary --- Mr. Jyothin Joseph (Houston)
Administrator --- Mr. Reni Philip (Houston)
Morth Mariam Vanitha Samajam (MMVS)
Vice-President --- Rev. Fr. Binny Kuruvilla (Calgary)
Secretary --- Mrs. Santhamma Mathew (Los Angeles)
Treasurer --- Mrs. Gigi Simon (Chicago)
Orthodox Christian Youth Movement (OCYM)
Vice-President --- Rev. Fr. Mathews George (Chicago)
Secretary --- Mr. Varghese A. Panicker (Houston)
Prayer Fellowship & Mission Forum
Director --- Rev. Fr. Rajesh John (Houston)
Secretary --- Mr. Rajan Joseph (Dallas)
Director --- Rev. Fr. Zachariah Diju Skariah (Kansas City)
Secretary --- Ms. Susan Zacharia (Chicago)
Treasurer --- Mr. Ajoob Chackacheril (Houston)
Chicago Area --- Rev. Fr. Abi Chacko
Dallas Area --- Rev. Fr. Mathew (Mat) Alexander
Detroit Area --- Rev. Fr. George (Shinto) David
Northwest Region --- Rev. Dn. Pradeep Hatcher
West Region --- Rev. Dn. Saju Varghese