San Antonio St. Mary's Orthodox Church Perunnal & Laying the foundation stone for new Church - Aug 14-15
By the Grace of our Lord Almighty, along with the Sunoyo Perunnal Holy Qurbana & celebrations on Aug 15 2015, at 11:00AM H G Alexios Mar Eusebius Metropolitan will lay the foundation stone to begin the second phase of the new church construction.Diocesan Center Chapel Fundraising Raffle kick off meeting also arranged and will be presided by H G Alexios Mar Eusebius.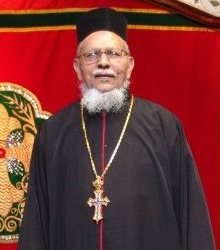 Seventh (7th) death anniversary of Very Rev. Koshy V. Poovathur Cor-Episcopa's memorial services will be conducted at the church. Diocesan Metropolitan will lead the prayers and doopa-prardhana.Rev. Fr. Dr. V C Varghese ( Vicar ), other priests and members from the sister parishes will also attend the functions.