Tragedy Stuck Spokane Mission Parish: Urgent Request from St. Gregorios Malankara Orthodox Church, Spokane.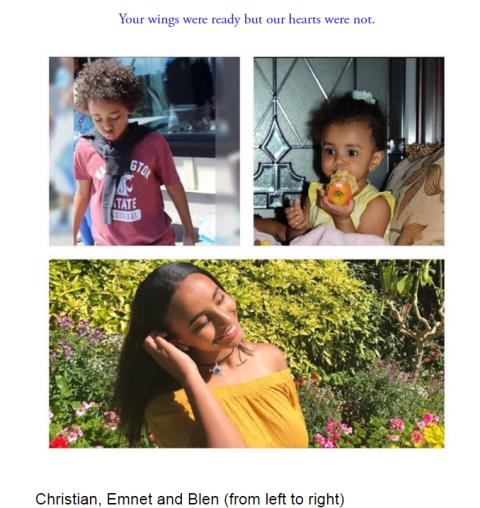 Seeking your prayers & Support for our St. Gregorios Malankara Orthodox Church, Spokane.
One of our very active families stuck with a terrible car accident. Tragically, all three of their children died, Blen (16), Christian (11), and Emnet (11 months), and the parents, Solomon and Meseret were both hospitalized due to their injuries. May God give the departed eternal peace and joy and comfort those who remain on earth. The older children attended All Saints Catholic School and Blen would be entering her junior year at Ferris High School.
For those interested in helping with the immense financial burden of the transportation of the deceased from Canada as well as the funeral and other related costs, please write checks to St. Gregorios Orthodox Church, with a memo of "funeral fund". Donations are also being accepted via the Spokane Habesha Community website: and GoFundMe page created for the family
May God bless you for all your prayers and support.
FUNERAL:
At the request of the extended family, the funeral for the children of Solomon and Meseret has been moved to Seattle. The time will be this Saturday, Aug. 26th at 9 am. The place will be St. Gabriel's Ethiopian Orthodox Church, 949 Martin Luther King Jr. Way South, Seattle, WA. The burial will follow at 1 pm.
We will do the memorial prayers here in Spokane on Wednesday, August 30, at St. Gregorios. The time will 7 pm.
Thanks to all of you for your generosity and prayer at this time of tragedy for this wonderful family. May God bless you all.
St. Gregorios Malanakara Orthodox Church, Spokane.