The Passing of Very Rev. Dr. M.E. Idiculla Cor Episcopa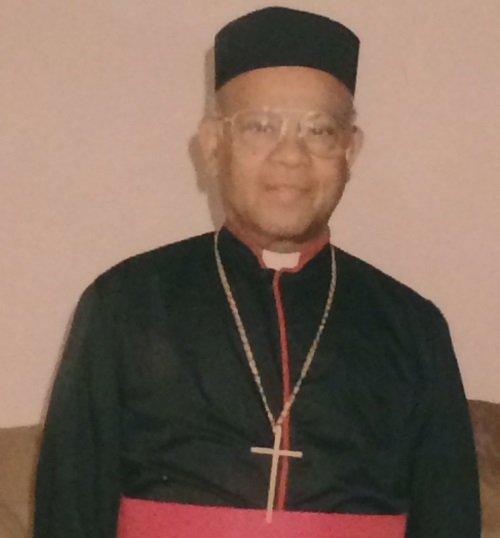 With faith in Christ and in the hope of resurrection, the Diocesan Office would like to inform you of the passing away of Very Rev. Dr. M.E. Idiculla Cor Episcopa, officiating priest at St. Mary's Orthodox Church, Tampa (Wesley Chapel)
Achen resided in Fort Myers, Florida and was one of the earliest settlers of our community in America, serving the American Diocese for many decades. Achen's home parish is Prakkanam St. Mary's Valiyapalli. Achen was ordained as a priest on July 10th, 1979.Two weeks ago, the Very Rev. Cor-Episcopa was given the sacrament of Holy Anointing of the Sick and Holy Eucharist by Rev. Fr. George Paulose in Tampa.
Please remember the departed soul of our beloved Achen and his extended family in your prayers.
May the memory of Very Rev. Dr. M.E. Idiculla Cor Episcopa be eternal!
Viewing will be on Friday, August 22, from 5.00 - 9.00 PM at:

Park Funeral Home,
2175 Jericho Turnpike.
Garden City Park, NY 11040.

Funeral Service will be on Saturday, August 23 at 7.00 AM at:

St. Gregorios Orthodox Church.
175 Cherry Lane,
Floral Park, NY 11001.

Burial will be at All Saints Cemetery, 855 Middle Neck Rd, Great Neck, NY 11024
His Grace Zachariah Mar Nicholovos ( Diocesan Metropolitan North-East American Diocese ) and  His Grace Alexios Mar Eusebius( Diocesan Metropolitan South-West American Diocese ) will lead the services
Rev. Fr. Dr. M.E. Idiculla, Cor-Episcopa
Achen was born on May 10, 1927 in Prakkanam, Pathanamthitta District, Kerala. After his elementary and secondary school education, he went to Orthodox Church MD Seminary to study theology to become a Priest (Achen.) As a private student of Kerala University, he completed his Bachelor or Arts and become a teacher at the Catholicate Middle School, Pathanamthitta. He taught there for three years before he attended Jabalpore Theological College which is affiliated with Serampore University, Calcutta. There he earned his Bachelor of Divinity (B.D.) degree.
In 1957, after completing his B.D. degree, he was admitted to Boston University for Masters of Theology (M. Th) program. There he met and studied with, Martin Luther King, Jr. After completing M.Th degree, he went on to obtain a second Master's Degree in Education again at Boston University. Achen furthered his education at Brigham Young University in Utah where he earned a Doctorate of Philosophy (Ph.D) in Education.
His teaching career began at the University of New Hampshire in Keene, NH. While teaching here, he married Sosamma Cherian in 1966 in Ridgefield, New Jersey. In 1969, he, along with his young family moved to Geneseo, NY for a teaching position at the State University of New York (SUNY.) He obtained tenure and was Professor there for close to 30 years. While teaching here, Achen took Sabbatical to teach Statistics at Madras University.
Achen was first a deacon in the Orthodox Church for 22 years. He became a priest in 1979 when His Holiness Moran Mar Baselios Mar Thoma Mathews I (Bava Thirumeni) came to NY and ordained him. After 2 years, His Grace Philipose Mar Theophilos, Metropolitan of Bombay Diocese and His Grace Dr. Thomas Mar Makarios elevated him to Cor-Episcopa. While teaching full time in the Education Department of the University, he became the vicar of 15 parishes throughout the United States and Canada. Many of these parishes he started himself including parishes in: Philadelphia St. Mary's, Long Island St. Stephen's, Edmonton, Canada St. Gregorios, Toronto St. George's, Ottawa St. Thomas, Montreal St. Mary's, Detroit St. Gregorios, Chicago St. Thomas, Rochester NY St. Thomas, Syracuse St. Thomas, Washington DC St. Mary's, Queens St. Baselios, New Hype Park St. Gregorios, Staten Island St. Gregorios, Brooklyn St. Baselios; Newtown, NY St. Peter and Paul.
Achen was not only dedicated to the church and his family, he was also a devoted servant to his local community. He served as President of International Rotary Club, Livingston County, NY;
President of Livingston County Chapter of The American Red Cross;
Livingston County Ministers Association and President of Interfaith Center of the SUNY Geneseo.
Achen served as the first elected American Diocesan Secretary for 2 terms and was elected a member of Malankara Orthodox managing Committee for the American Diocese also for 2 terms. He applied and received research grants: one from The National Research Foundation and 2 from the State Education Department of NY. He published his findings soon after.
Achen loved to Barbeque, watch football and laugh with his friends. He passed away peacefully at his home with his wife and daughter present. He is survived by his wife Sosamma, daughter Saji and husband Gerry; son Sebu and wife Lori; grandchildren, Samuel, Alicia and Samantha; brother ME Koshy(Prakkanam); and sister Annamma Varughese (Puramattom.)