FOCUS
Fellowship of Orthodox Christians in the United States (FOCUS)
The Fellowship of Orthodox Christians in the United States (FOCUS) is an English ministry for young adults and young families.
This ministry strives to encourage young adults in America to live the Orthodox life - a life in communion with God through participation in the liturgical life of the Holy Church.
Focus Nation Conference is back!  The first conference held in Dallas in 2012 was a great success.  It had a great impact for many of us on better understanding Orthodox Christianity and our role in the Diocese and in the US.
This year we are building on that success by focusing on the theme Becoming Human: A Journey in Orthodox Spirituality.
Our Guest Speaker, Fr. Abey George, will be delving into matters of mind, body, and soul and ultimately focusing on our purpose in life.  Come experience spiritual enlightenment! We hope to see you there!
About the Speaker:
Fr. Abey George currently serves as the Asst. Vicar at St. Thomas Orthodox Church Levittown, NY in Northeast American Diocese.  Fr. Abey George has an M.Div from St. Tikhon's Orthodox Theological Seminary in Pennsylvania.
Registration for FOCUS Nation 2017 is now open - Register HERE!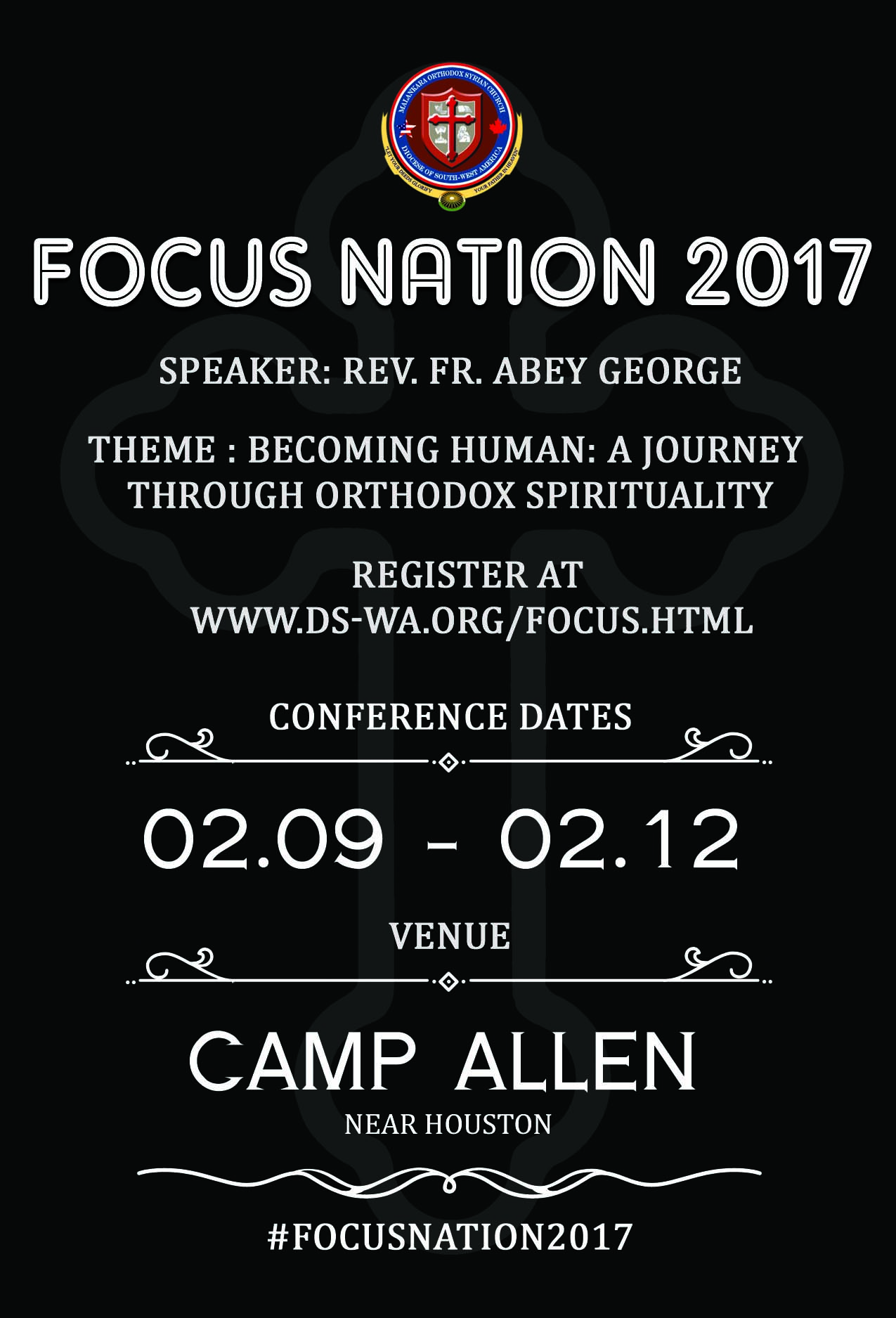 For more information about FOCUS Nation 2017, please contact the Conveners -
Beena Babukutty
This e-mail address is being protected from spambots. You need JavaScript enabled to view it

Jinsu James
This e-mail address is being protected from spambots. You need JavaScript enabled to view it
For more information about the ministry of FOCUS, please contact:
Fr. Jake Kurian, Director
This e-mail address is being protected from spambots. You need JavaScript enabled to view it
Reju Mathews, General Secretary
This e-mail address is being protected from spambots. You need JavaScript enabled to view it