Divyabodhanam Class Recordings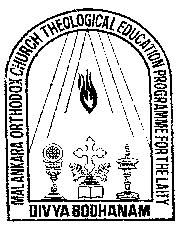 Divyabodhanam
Growing in the Wisdom of God
(Theological Education Programme for the Laity)
A Divyabhodanam Study class is done on first Monday of every month. This was initiated by the Diocese of South-West America's Divyabodanam coordinators, Fr. Ninan George and Mr. Alex Alexander and should prove to be very useful to its members. As with the other teleconference projects, because of the vast geographical area covered by the diocese, it was natural to set up a teleconference line to achieve the purpose of the study. The recordings of the Divyabodhanam Study Class are below and they are arranged chronologically.
Please announce this initiative in your church also so as to increase participation among all Church members.
The study class is scheduled to be held on first Monday of every month at 8.00PM CST
The number to call for the Tele conference is 218 632 0187 and access code is 3703#.
For further information please contact the Diocesan center at 281.403.0670. Everyone is welcome and are encouraged to take advantage of this innovative venture to strengthen their spiritual nourishment.
Please note that it is illegal to download/record any of the below recordings and use it for any other purpose. other than spiritual meditation/nourishment, without the written consent of the Diocesan office.
2015-10-20 - Diocesan Divya Bodanam Class - Vedasastraveediyil by Rev Fr Dr K L Mathew Vaidyan - Rev Fr Dr Mathew Koshy (Atlanta )
2015-10-09 - Diocesan Divya Bodanam Class - Vedasastraveediyil by Rev Fr Dr K L Mathew Vaidyan - Rev. Fr. Dr. Jacob Mathew (Florida )
2015-09-28 - Diocesan Divya Bodanam Class - Vedasastraveediyil by Rev. Fr. Dr. K. L. Mathew Vaidyan - Rev Fr Dr Mathew Koshy (Atlanta )
2015-09-14 - Diocesan Divya Bodanam Class - Vedasastraveediyil by Rev. Fr. Dr. K. L. Mathew Vaidyan - Rev Fr Dr Mathew Koshy (Atlanta )
2015-08-24 - Diocesan Divya Bodanam Class -Vedasastraveediyil by Rev Fr Dr K L Mathew Vaidyan - Rev Fr Dr Jacob Mathew (Florida )
2015-07-13 - Diocesan Divya Bodanam Class - Abba Father - Introduction to Christian Liturgy - Rev. Fr. Dr. Jacob Mathew (Florida )
2015-07-06 - Diocesan Divya Bodanam Class - Abba Father - Introduction to Christian Liturgy - Rev. Fr. Dr. Jacob Mathew (Florida )
2015-07-01 - Diocesan Divya Bodanam Class - Abba Father - Introduction to Christian Liturgy - Rev. Fr. Dr. Jacob Mathew (Florida )
2015-06-24 - Diocesan Divya Bodanam Class - Abba Father - Introduction to Christian Liturgy - Rev. Fr. Dr. Jacob Mathew (Florida )
2015-05-20 - Diocesan Divya Bodanam Class - Abba Father - Introduction to Christian Liturgy - Rev. Fr. Dr. Jacob Mathew (Florida )
2015-05-06 - Diocesan Divya Bodanam Class - Abba Father - Introduction to Christian Liturgy - Rev. Fr. Dr. Jacob Mathew (Florida )
2015-02-17 - Diocesan Divya Bodanam Class - Viswasa Deepthi- Orthodox Christian Apologetics - Rev. Fr. Dr. Mathew Koshy (Atlanta )
2015-01-29 - Diocesan Divya Bodanam Class - Viswasa Deepthi- Orthodox Christian Apologetics - Rev. Fr. Dr. Mathew Koshy (Atlanta )
2015-01-13 - Diocesan Divya Bodanam Class - Viswasa Deepthi- Orthodox Christian Apologetics - Rev. Fr. Dr. Mathew Koshy (Atlanta )
2014-10-06 - Diocesan Divya Bodanam Class - Viswasa Deepthi- Orthodox Christian Apologetics - Rev. Fr. Dr. Mathew Koshy (Atlanta )
2014-09-09- Diocesan Divya Bodanam Class - Viswasa Deepthi- Orthodox Christian Apologetics - Rev. Fr. Dr.Mathew Koshy (Atlanta )
2014-05-12- Diocesan Divya Bodanam Class - An introduction to Christian Counselling - Rev. Fr. Dr. Mathew Koshy (Atlanta )
2014-03-10- Diocesan Divya Bodanam Class - An introduction to Christian Counselling - Rev. Fr. Dr. Mathew Koshy
2014-02-24- Diocesan Divya Bodanam Class - An introduction to Christian Counselling - Rev. Fr. Dr. Mathew Koshy
2014-01-14- Diocesan Divya Bodanam Class - Mrs Liji Alex Kochamma from Staten Island
2013-12-11- Diocesan Divya Bodanam Class - Rev. Fr. Mathew T Mathew (Shaun Mathew )
2013-12-03- Diocesan Divya Bodanam Class - Rev. Fr. Mathew T Mathew (Shaun Mathew )
2013-11-18- Diocesan Divya Bodanam Class - Rev. Fr. Rajesh K John
2013-11-04- Diocesan Divya Bodanam Class - Rev. Fr. Rajesh K John
2013-10-28- Diocesan Divya Bodanam Class - Rev. Fr. Rajesh K John
2013-10-07- Diocesan Divya Bodanam Class - Rev Fr. Rajesh K John
2013-09-09- Diocesan Divya Bodanam Class - His Grace Alexios Mar Eusebius
2013-08-12- Diocesan Divya Bodanam Class - Rev. Fr. Ninan V George
2013-07-08- Diocesan Divya Bodanam Class - Rev. Fr. Dr Reji Mathew (Kottyam Seminary)
2013-07-01- Diocesan Divya Bodanam Class - His Grace Alexios Mar Eusebius
2013-06-03- Diocesan Divya Bodanam Class - Rev. Fr. Ninan V George